The rich and famous people of ancient Egypt lived a decadent lifestyle with fine wine, sex, high fashion, and plenty of partying. How do they compare with their equivalents today – the modern western celebrity set?
The main differences might be regarding who were the richest people then, and who are the richest people now. In ancient Egypt the pharaoh was at the top of the pyramid and his family, noble people who owned land, and the priests came after. Scribes, architects and doctors were well off, and skilled craftsmen also had many privileges.
Peasants and unskilled workers were low down the scale of Egyptian society, but it was the servants and slaves that skirted the bottom of the class pyramid. Those working in mines and quarries were really asking for trouble, as diseases, physical strain and dangers lurked in every turned stone in the desert. Slaves working in rich domestic environments were the lucky ones as they were assured security, housing and food. Many of these endured hard physical work and usually died young as we can see from the osteological remains found at Amarna site analyzed by Dr. Jerome Rose which proved that people building those megalomaniac buildings for Akhenaton died young with severe bone lesions.
Jobs For the Boys
Men in the armed forces, army and navy were not afforded a high social status, and neither were entertainers. Members of the armed forces are still not wealthy today, and face the same dangers. Many still die in wars like the ones in Afghanistan and Iraq, or return with physical and mental injuries that haunt them for life.
However, it is somewhat different now regarding entertaining. Although there are still many badly-paid wannabes, entertainers today are amongst the richest people on the planet. Beyonce (who Zahi Hawass called "a stupid woman" because of her lack of interest while touring ancient Egyptian monuments with him), Oprah Winfrey, Madonna, Angelina Jolie, Britney Spears and Simon Cowell are some of today's high-earners.
Professions were usually hereditary, not chosen; a man followed his fathers trade and so on. We also have that today as seen for example by the careers of actor Martin Sheen and his sons (both actors) Charlie Sheen and Emilio Estevez or Gwyneth Paltrow, famous actress and daughter of Bruce Paltrow and Blythe Danner (both actors too). And of course, there's the Bush 'dynasty' in US politics.
Scribes were the top dogs in the sphere of learning and teaching. Not every child was able to learn how to read and write; this was restricted to those following the scribe profession. We can compare this to the present computer industry where people like Bill Gates and Larry Page rule the world of communications and fight for more people using their scripts. A paradox: we can have hieroglyphics in our cellphones now.
These days the situation is different, as the presidents and kings of nations might not be the richest people in their country. The priests of any religion nowadays are not the richest people, that is for sure, as cults and religions are not considered as economically important in society as they were back then.
Gotta Get to… the Temple
Priests loved to eat and drink well. They had all those succulent leftovers from the rituals at the temple to take home. That is why arteriosclerosis (high cholesterol) was found in ancient Egyptian mummies. Unlike today, when there's a branch of Greggs (British bakery chain, famous for its sausage rolls) on every corner it seems, in ancient Egypt, only the elite could afford such a decadent disease!
Different kinds of meat were available for the elite: beef, veal, antelope and gazelle meat. The poor ate mostly birds such as geese, ducks, quails, cranes, and from the New Kingdom onwards raised their domestic poultry animals. Different fish from the Nile were consumed, though some were forbidden because of the myth of Osiris where he travelled along the Nile and the Mediterranean Sea while dismembered by his evil brother Seth. The fish were most frequently dried in the sun.
Sweeteners were different too; the rich used honey, while the poor used dates, left to ferment in the heat.
Booze Nation
Similarly to today perhaps, wine was the booze of choice for high society individuals. Fine wines were labelled with the date, vineyard and variety as the tax assessors requested, such as the ones found in Tutankhamuns tomb.
Beer was the poison of the masses. Rich people also drank beer though… loads of it, in fact.
People loved to drink, as they do today, according to maximas written in the New Kingdoms The Maxims of Ptahhotep or Instruction of Ptahhotep, a vizier under King Isesi of the Egyptian Fifth Dynasty (c. 2414-2375 BC).
These writings functioned as advice and were intended to be directed to his son. There are several copies available today; the Prisse Papyrus dating from the Middle Kingdom, at the Bibliothque Nationale in Paris, and two slightly different versions at the British Museum.
Ptahotep explains why he wrote these; he had reached old age and wanted to leave a legacy of good sense instructions to his son. These are rules on how to be kind, just, peaceful, and on how to behave in the correct manner in general. Among those there were some pieces of advice on how bad your reputation gets (it goes down the drain, really), if you drink too much. Just like what happened to Charlie Sheen and his wife last Christmas…
Grand Designs
As homes were built with adobe bricks, none of these buildings survived. The most modest houses, for the poorest people, were built with straw, palm leaves and also some rudimentary bricks, and were incapable of resisting the winds and sands of centuries. The houses built for the rich and powerful were obviously different from the ones built for
In an ancient Egyptian version of the Emmys or the Oscars, guests such as Victoria Beckam, Ivana Trump or Paris Hilton would all have wigs, and perhaps also burning perfume cones, on their heads.
labourers and farmers.The two main differences were: materials and space.
Not that the rich all had golden taps, literally made of gold, like Saddam Husseins, in their bathrooms, or Carrara marble like many rich people do today. But, for example, wood was expensive in Egypt. Egyptian trees did not provide the best wood for furniture-building, so the good stuff was imported from Byblos present Lebanon. Furniture made of good wood was only found in the homes of the rich. Wooden beds and wooden headrests featuring gods protecting the occupants from demons were not available for lower classes.
Rugs from Persia, ebony and ivory pieces from African kingdoms, golden vases, jewellery and sculptures from Nubia, various precious stones and gold ornaments were some of the treats rich people could afford in ancient Egypt. As far as we know, they didn't have their own version of Hello magazine in which to show off their interior decor.

The equivalent to present day Beverley Hills or the Hamptons, the rich had their patch of land outside the city, where they had room for orchards and vineyards. The poor were clustered together on the outskirts in small brick houses. An example of housing for the poor were the villages expressly built for workers like the one at Deir el-Medina – similar to the workers camps outside Dubai.
Dressed to Party
Another distinctive trait of rich people in ancient Egypt was the use of wigs, made with sheep or real human hair, and worn at parties and in domestic environments as well as at festival and important cults. Fashion thrived, and found its victims amongst the wig wearers. In an ancient Egyptian version of the Emmys or the Oscars, guests such as Victoria Beckam, Ivana Trump or Paris Hilton would all have wigs, and perhaps also burning perfume cones, on their heads.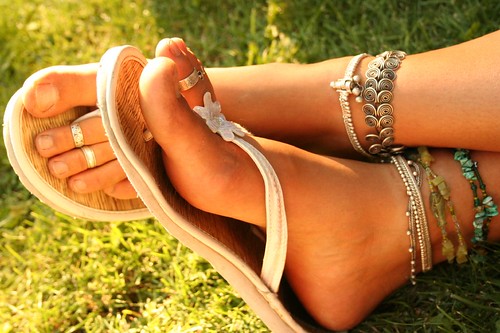 But what about the gowns? It seems from archaeological findings that everyone wore tunics. Men wore them down to their knees and women down to their ankles. These tunics were made from linen, from the Flax plant very abundant across the Mediterranean. Not the choice of Victoria Beckam for sure!
Like a school uniform, people found a way to customise the ubiquitous tunic. Richer individuals wore their tunics folded, as depicted in art, with some with gold lines and designs. Add on the jewellery and the headdresses, and there was no way could you mistake a celeb for her personal assistant.
Sandals (ankh) were worn by everyone (without socks, you'll be pleased to hear). The difference was that poorer people could only afford papyrus or palm fibre sandals, while richer individuals had their sandals woven in leather. There were no high heels like the ones models refused to put on at the latest Alexander McQueen fashion show!
Men and women wore makeup (the rich ones). Kohl for eyes was also used as a protective balm as many of the medical papyri prescriptions suggest, and henna was worn on the lips and nails. Tattoos were common, applied to both the living and the deceased. Today tattoos are becoming common amongst all types of people, and many male celebs slap on the face paint as well as the women.
Love, Sex and Adultery in Ancient Egypt
Women had more freedom than their counter parts in Mesopotamia, for instance, but never as much as Paris Hilton and pals. Egyptians married young, very young indeed, and, in royal families, between themselves. Childbirth was dangerous but encouraged in ancient Egypt – prosperity was a goal for everyone and that included having a big family.

The love and sex lives of the Egyptians were as complicated as they are today. Turin's famous Erotic Papyrus assures us that the Egyptians were sexually adventurous, with a penchant for naked belly-dancing, and collections of love poetry from the Amarna era reveal that they were also big romantics.
According to Angelina Jolie in recent news fidelity is not essential in her relationship with Brad Pitt, but adultery is one of the oldest reasons for divorce, death and depression – the 3 Ds – and in ancient Egypt as in most of the modern world, women often still file for divorce on the grounds of adultery. Divorce was legal and the problems arising from it were usually when it involved property that had to be divided. The bigger the stake – the bigger the battle, as the recent multi-million divorce case between ex-Beatle Paul McCartney and Heather Mills clearly illustrates.
The love and sex lives of the rich and famous captivated the less fortunate in ancient Egypt just as the romances of Jordan and Peter Andre or 'Bradjelina' do today. The alleged affair between Hatshepsut and Senenmut clearly occupied the minds of workers at Deir el-Medina – one of them drew a caricature of their love affair in an ostracon. Then, as now, there would always be somebody who didn't approve!
Playboys of the Ancient World
There are many similarities between the leisure pursuits of the rich and famous now and in ancient Egypt. The Egyptians practised many sports, including hunting and fishing (still high on the country gent's agenda), and wrestling, which has perhaps suffered some decline in status over the centuries.
Like now, the rich had a need for speed. They loved racing horses and chariots (after the horse was introduced in Egypt), just as the modern elite love their fast cars. It was a dangerous passion that possibly caused Tutankhamuns death as well as James Deans, but led rich playboy Lord Carnarvon to his career as an explorer.
Dinner parties, or banquets, were also frequent in rich houses with dancing, drinking and maybe sex included – just as today.
No scientific proof of the use of recreational drugs in ancient Egypt has been found yet, but jars from Cyprus found in Egyptian sites reveal that they used opium as medicine. Now, there is a growing practice of the legitimate use of cannabis for medicinal purposes, to treat MS amongst other complaints. No doubt Amy Winehouse and Pete Docherty have used 'medicinal purposes' as an erroneous excuse at some point too.

Celebs Behind Bars

? Not in Egypt

Scandals like the 1970s allegation of a young girls homicide by the hand of director Roman Polanski (linked to sex offenses) are not known to ancient Egypt.


However, the ancient world wasn't without its bad boys. High treason and attempts to the kings life were among the top crimes to be punished in ancient Egypt. Robbery existed but there is no evidence of homicides or other death crimes. Justice was Maat, the supreme balance against chaos, and everything in life had to be done accordingly. Just as we respect our Constitutions and laws, ancient Egyptians had their laws and ordinances. Viziers and judges were appointed by the pharaoh to decide upon requests for intercession.

Forget not to judge justice. It is an abomination of the god to show partiality. This is the teaching. Therefore, do you accordingly. Look upon him who is known to you like him who is unknown to you; and him who is near the king like him who is far from his house. Behold, a prince who does this, he shall endure here in this place. – From The Instructions of Rekhmire, in The Wisdom of Ancient Egypt by Joseph Kaster.

So, it seems like the rich and famous of ancient Egypt had a lot in common with today's celebs when it came to lifestyle choices. They could probably drink, race, eat and party our paltry lot under the table – but when it comes down to it, they were a lot better behaved.
Video: The Lifestyle Objects of the Most Famous Egyptian Celeb – King Tut

(Read the transcript on the video page)