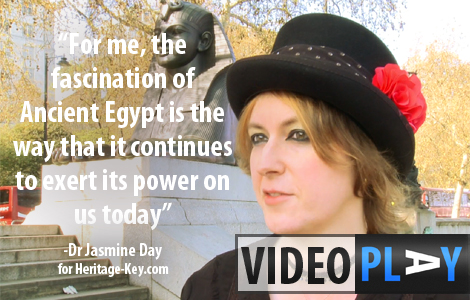 London's skyline today may be better known for a gherkin, a big wheel and Big Ben, but the city's past has been littered with Egyptomaniacs, bent on saluting ancient Egyptians in Britain's capital. And who better to lead us on a tour round London's hidden Egyptian architecture than Dr Jasmine Day, self-confessed Egyptophile and author of TheMummy's Curse: Mummymania in the English-speaking World. "For me the fascination with ancient Egypt," says Jasmine, "is the way that it continues to exert its power on us today. We can see the tremendous influence that ancient Egyptians have on our own architecture, our own art styles."
The first stop on our tour is a genuine 3,500-year-old Egyptian obelisk on the Victoria Embankment, better known as Cleopatra's Needle. But, as Jasmine explains, the needle has nothing to do with Cleopatra herself. "It was given as a gift to the British government, but they unfortunately didn't have the money to bring it to the UK."
Eventually famed physician Sir Erasmus Wilson coffed up the cash to bring the needle to London, and it was towed behind a ship in a cigar-shaped container called the Cleopatra (hence the name). However the story took a tragic twist of fate near the Bay of Biscay. "There was a terrible storm and the Cleopatra came loose," says Jasmine, "and in trying to retrieve it six men lost their lives…These men's names are commemorated on the plaque on the base of the needle."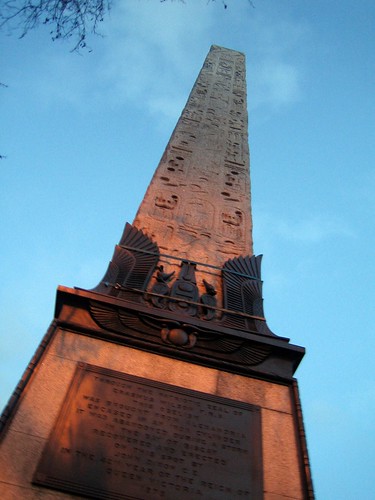 It's a long journey to our next site, the Kilmorey Mausoleum in Twickenham. It's a fearsome sight, a lot bigger than I'd imagined, with its temple-like sides shimmering eerily in the spring sun. It was built by Francis Jack Needham, the 2nd Earl of Kilmorey, who was better known by his nickname 'Black Jack'. To call the Earl an eccentric is something of an understatement, and one of his favourite hobbies was downright mad. "There is a tunnel discovered in the 1960s which runs right through from the grounds of Gordon House to the grounds of the mausoleum," says Jasmine. "We know that Lord Kilmorey used to lay down like a corpse in his coffin and got his servants to push him along on a trolley up here to this tomb."
From the ridiculous to, well, the ridiculous again, and our last stop is the gigantic Black Cat Factory, now Greater London House, in Camden. Architecturally somewhere between Cairo and Gotham City, the massive art deco depot, once a cigarette factory, oozes glamour and excess. "It was built in the 1920s when King Tut's tomb had only just been discovered, and that set off Egyptian fever of architects everywhere," says Jasmine. "The day it was opened they put sand down in front of it to make it look like an Egyptian temple out in the desert…they even had chariots racing in front of the building."
With the sun fading it's time to end our Egyptian tour of London. But it's been an amazing day, and fascinating to see that while London may be thousands of miles from Cairo, ancient Egypt flows through its veins. Watch the video to see other Egyptian-themed landmarks in the capital, like Highgate Cemetery and Harrods' Egyptian Hall.
HD Video: Episode 12 – Egyptomania in London!
Click here to view the transcript of this video.
We have many more Ancient World in London videos right here at Heritage Key, from the bloody rebellion of Boudicca to the magic of Hadrian's Wall – you can even explore Stonehenge for yourself in Stonehenge Virtual. The Ancient World in London is much more than the videos – we've got hundreds of great articles to read, and you can join the debate on the many issues raised throughout these three months.