"The whole discovery of Tutankhamun needed both ingredients to make it work. It wasn't all Howard Carter, certainly not only Carnarvon. But it needed the two of them." George Herbert, 8th Earl of Carnarvon, ebbs deeper into the bond which drove two of archaeology's greatest characters to the biggest discovery of all time. But how did the two men, so different in background and expertise, even forge such a strong relationship?
Lord Carnarvon – or to give him his full tongue-twisting title, George Edward Stanhope Molyneux Herbert, 5th Earl of Carnarvon – was an aristocratic explorer and adventurer of the highest order. Born into money and obsessed with sailing, photography, travel and motor racing, he was the pinnacle of a 19th century playboy. Yet a race too far in Germany left him badly injured, and when a doctor recommended he seek refuge from the harsh British winter, what better place to get your kicks than the ancient playground of Egypt?
"The discovery of Tutankhamun needed both ingredients to make it work."
Howard Carter was a working-class lad who'd been taught the archaeological ropes by the meticulous Flinders Petrie. His star had already risen in Egypt, having been appointed the First Chief Inspector of the Egyptian Antiquities Service in 1899. However a messy dispute with French tourists in 1905 had left him out of work – and by the time the two were introduced in 1906, Carter was making a meagre living selling paintings to tourists.
"Great-grandfather was introduced to Carter perhaps as a way of bringing more experience and expertise on the ground," says the 8th Earl, as he rifles through Highclere Castle's infinite archives, "in line with a very keen, enthusiastic and financially independent excavator." The modern Lord and Lady's affection for their illustrious forebear is palpable: not only have they built their own Egyptian exhibition in the castle's cellars, but Lady Carnarvon has written two books on the pair and their discovery, Carnarvon& Carter(buy) and Egypt at Highclere: The Discovery of Tutankhamun (buy), both which you can purchase on Heritage Key.
Their enthusiasm is understandable – Lord Carnarvon typifies the spirit of adventure which spurred so many great discoveries. Yet the financial lengths he went to are staggering. Lady Carnarvon looks through some of the original photos from Carter and Carnarvon's exploits together (and you can purchase Fiona Carnarvon's book Carnarvon and Carter here) as she mentions the scale of their projects. 170 to 235 men worked on each tomb, and key players were afforded their own tents shipped straight from England – complete with food from luxury store Fortnum & Mason.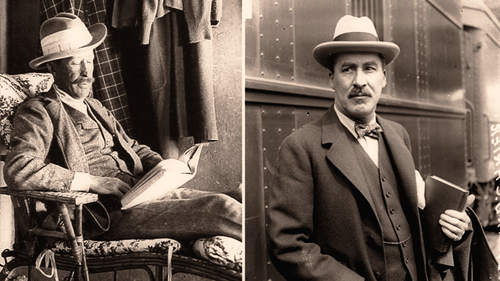 Lady Carnarvon chuckles at the sheer audacity of her forebear's exploits. There was, "a tent for himself; a tent for his wife; a tent for Howard Carter; a tent for his doctor; and a tent for a dining room. It was extraordinary!" Even Carter's famous rest house, recently converted to a museum, was shipped brick-by-brick from Bretby in Derbyshire. You can also learn more about the museum at Highclere Castle by purchasing Egypt at Highclere:The Discovery of Tutankhamun by Fiona Carnarvon.
Yet Tutankhamun, the king Carnarvon and Carter were determined to find, had still managed to elude them. Clues littered the Valley of the Kings: surely the boy-king must have been buried there somewhere? American archaeologist Theodore M. Davis had searched the area, yet Lord Carnarvon explains how the lawyer missed his squandered his turn in the spotlight. "He sent things back to America but rather thought that Tutankhamun was so unimportant that he'd been buried in a shallow grave."
But Davis was wrong. And when in 1922 Metropolitan Museum explorer Herbert Winlock pointed out a vase with King Tut's name on it at the Valley, the search was afoot. The men had spent almost two decades scouring Egypt for ancient treasure – suddenly they were on the verge of greatness…
HDVideo:Discovering King Tut – Lord Carnarvon and Howard Carter
(Click here to read a transcript of this video)
Look out for four more special Highclere videos, coming soon!You can watch a whole host of great videos here at Heritage Key – from the perils of Venice to the lost tombs of Thebes. Catch us here or on YouTube. Keep up-to-date with everything by subscribing to our RSS feeds, or by following us on Twitter, YouTube, Facebook, Flickr and iTunes.

You can also buy Fiona Carnarvon's books right here:
Buy Carnarvon & CarterHERE
Buy Egypt at Highclere: The Discovery of Tutankhamun HERE