King Tut Virtual Photo Contest attracted almost 200 wonderful photos of Kig Tut Virtual. Taking good, quality, high-resolution photographs anywhere in the metaverse takes quite a bit of time, effort and creative genius, so now we have chosen the winners which receive 100$ for the most fabulous high resolution shots taken in King Tut Virtual.
Loki Popinjay, a well known metaverse photographer had so many breath taking photos that we had seriously hard time to figure out which one to be the winner. The artefacts in King Tut Virtual are very real life like and still Loki has captured the beauty of the virtual reality in the most amazing ways. The quality of his photography is in very high level.
This is the second pick from his entries . He captured the landscape by the Nile area where you can see the Amarna house in the background. The reflection of the boat on the Nile is so beautiful and the whole feeling of the landscape is very dreamy.
The second place is for the Virtual Traveller. I would like to share Virtual Traveller's words on the experience Here I am sitting at Howard Carter's worktable listening to a wonderful audio guide explaining the discovery of the tomb. I am really quite strong as avatars go, therefore completely able to carry that pick axe under my arm with ease. There are still places here that we haven't yet travelled. Watch for more pictures on our return trip to this amazing place, Heritage Key: King Tut Virtual.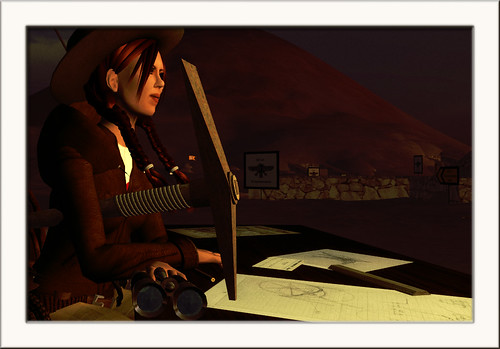 The third place is our wonderful Museum Guide Lady with her Torch leading the way. We just love this photo.
Once again, I would like to thank all the participants on this Photo Contest and congratulate the three winners. We have great news in a week we will start our Ancient Worlds in London series where we will have many photo contests.So follow us on Heritage Key.