Heritage Key is offering free guided tours of King Tut Virtual. You can join me for a guided tour of the virtual experience any weekday at 11am and 5pm London UKtime (GMT).
Each tour lasts for an hour and is meant as a casual introduction to get you started on the right foot for your virtual experience.
If you have never been in the virtual world before this a great opportunity as I will be there to answer any of your questions and help you with any problems you might come across.
The tours will cover everything from virtual navigation to customising your avatar and taking photos in the virtual world, or just simply exploring and having fun.
During that one hour we will take a balloon ride over the Valley of the Kings, do some digging as we search for treasure, have a taste of the Nile and Amarna period, and finish with a tour of the King Tut exhibiton – one of the most amazing gallerie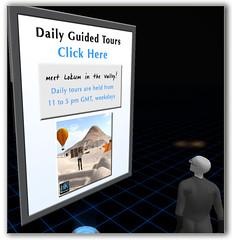 s in the virtual world. The video below, which was created in the Cosmic Gallery and focuses on a cosmetic jar from the tomb of King Tut, gives you some idea of the kind of artefacts on display:
How to find the Guided Tours
Simple Steps to follow to find me daily at the Valley of the Kings.
First Go virtual
Once your avatar is created and you land in the King Tut Virtual you will see a sign for Daily Guided tours as in the photo here on the right.
Please click on the image to be transported to the Valley of the Kings to start your journey.
You can always contact me at meral@heritage-key.com or check out the calendar for update on the events at King Tut Virtual
MOVIE: Cosmetic Jar with Recumbent Lion on Display in King Tut Virtual
Before you start make sure you register your avatar, then come and join me – Lokum Shilova – in the Valley of The Kings. I'll be there every day at 11am and 5pm for an hour of fun-filled exploration. See you there!