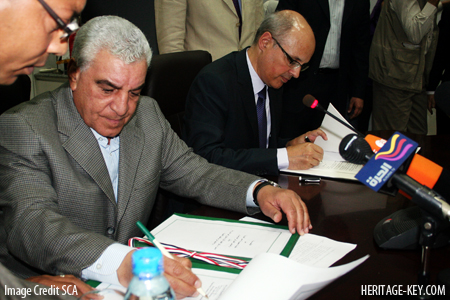 Switzerland today signed an agreement for the repatriation of all illegally-obtained antiquities of Egyptian origin currently within their borders, according to a press release circulated by the Egyptian Supreme Council of Antiquities (SCA). It represents a major victory for Egypt in its battle against global artefact theft, since many stolen treasures from Egypt are smuggled via Switzerland.
The agreement is the latest of 16 such treaties Egypt has reached with foreign nations since 2002. The SCA press release adds that Secretary General of the SCA Zahi Hawass is currently in the process now of forming agreements with other countries.
The deal comes in the wake of a two-day international conference in Cairo last week, attended by 20 countries, at which Hawass led a call for states around the world seeking the repatriation of antiquities to unite in their efforts.
Over the past few years, hundreds of Egyptian objects have been repatriated from Switzerland to Egypt. They include the eye of Amenhotep III which was stolen from a statue of the pharaoh at Luxor in 1972 then later sold to the Art Museum of Basel by a German dealer and a variety of artefacts that entered the country via Tarek El-Sweissi, the former head of the National Democratic Party for the Giza area, who in 2003 was charged with heading a multi-million dollar antiquities smuggling ring.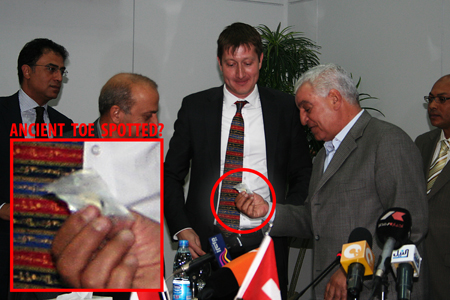 Zahi Hawass has made it his mission since beginning his tenure as chief of the SCA in 2002 to recover Egyptian artefacts from abroad. So far he has helped Egypt reclaim some 31,000 relics from other countries. Hawass continues to pursue high profile antiquities from major foreign museums, including the Rosetta Stone, which is held by the British Museum (see our recent Bloggers Challenge for some opinions on this contentious subject), and the Bust of Nefertiti, which is currently on display at the Neues Museum in Berlin.
During the signing agreement with the Swiss, Frank Rhli of the University of Zurich the same anatomy expert who last year mummified a human leg using the same salt drying process applied by the ancient Egyptians returned the toe of Akhenaten to the Egyptians, in what was presumably a symbolic gesture (seems an otherwise inappropriate moment to be handing over a centuries-old body part). The 3,300-year-old digit belongs to the skeleton discovered in KV55, which according to a recent study on King Tut's DNA, is the young pharaoh's biological father, most likely the 'heretic pharaoh' Akhenaten. The toe is to be displayed at the Egyptian Museum in Cairo.