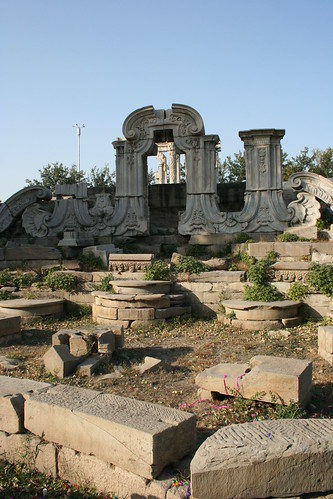 In what looks like a massive relic hunt, China plans on sending experts across the world to find and catalogue artifacts that were looted from a historic summer palace in the second Opium War. Announced earlier this week, the project will involve a team of experts traveling to museums, libraries, and private collections in such countries as the United States, Britain, France, Japan – including the British Museum.
The aim is to find out which artifacts were taken from Beijing's Old Summer Palace when British and French troops sacked it in 1860, during the Second Opium war. According to rough estimates, 1.5 million artifacts from the palace are now stored in more than 2,000 museums in 47 countries, said Chen Mingjie, director of the palaces management office in an interview to the state press, China Daily.
The team of experts will start with their visits next year. But their main goal will not be repatriation of the items, Chen added, but to identify and document what relics were looted from the palace.
We have clarified that this is an attempt to document rather than to seek a return of those relics," he said. even though we do hope some previously unknown relics might surface and some might be returned to our country during our tracing effort."
One of the museums Chen identified as a place still storing items from the summer palace is the British Museum in London, which has a long history of disputes over repatriation of its artefacts, including the Elgin Marbles, Knissos Lion, the Rosetta Stone, the Lewis Chessmen, and, most recently, artefacts from Iran.
Esme Wilson, a spokeswoman for the museum, said in an email that China had yet to contact them about this matter. But she added, We understand it is to do with documentation and archiving, and we would be happy to have discussions if contacted.
While China begins preparing its search for the relics, the team of experts will likely confront many difficulties said James Hevia, a professor at the University of Chicago, who specializes on Chinese history and imperialism.
Hevia called it an almost impossible task, saying that too many of these artifacts were scattered across the world, where some were then circulated on auction markets or put into private hands. Over time their exact origins can become unknown, even when they come into the care of museums, he added.
While I understand the reason why Chinese scholars might want to find all the relics, I do not think that they are fully aware of how difficult a task this will be, Hevia said.
The news comes as the destruction of the Old Summer Palace in Beijing recently passed its 149th anniversary. The event is still a sensitive topic in China. Ruins make up of what is left of the palace, and are meant to serve as a reminder of the countrys past humiliation. Earlier this year, China condemned an auction that put up two bronze statues for sale that had been originally taken from the Old Summer Palace.