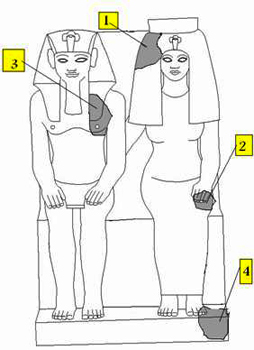 Egyptian Minister of Culture, Farouk Hosny announced today that six missing pieces from the colossal double statue of the 18th Dynasty King Amenhotep III and his wife Queen Tiye, have been discovered at the kings mortuary temple on Luxors west bank.
The fragments were found during excavation work by an Egyptian team under the direction of Dr. Zahi Hawass, Secretary General of the Supreme Council of Antiquities (SCA).
The pieces from Amenhotep III's statue that were recovered come from the right side of his chest, nemes headdress, and leg.
Statue fragments of Queen Tiye that were uncovered include a section of her wig, and pieces from her left arm, fingers and foot.
A small section of the base of the double statue was also found.
The measurements of the six missing fragments range from 47cm to 103cm.
After French egyptologist Auguste Mariette discovered the double statue at Medinet (Thebes) in 1889, the statue was restored, and an Italian team filled in the missing pieces with modern stonework.
Today, the statue of Pharoah Amenhotep III and Queen Tiye – parents of Akhenaten – is a centerpiece of the main hall at the Egyptian Museum in Cairo, which was founded by Mariette.
The newly discovered pieces are currently being held at the site of Amenhotep III s mortuary temple on the west bank, but will soon be relocated to the Egyptian Museum in Cairo for restoration and placement into the colossal statue (explore the treasures hidden in the Cairo Museum's basement, in this video featuring Dr Zahi Hawass).
Archaeologist Abdul Ghafar Wagdy, supervisor of the excavation at the site in Luxor, said that the pieces of statuary were found as part of a project to lower the ground water on the west bank of Luxor (watch our Heritage Key video about saving Amenhotep III's funerary temple at Thebes).
These six pieces are only a few of nearly 1,000 statuary fragments that have been found dating from the Pharonic to the Coptic era.
All the pieces that have been found to date are being stored in the west bank magazines for documentation and restoration.