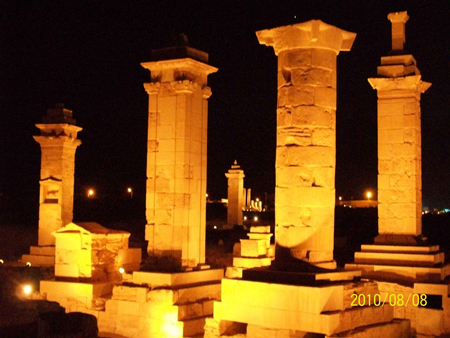 Following years of restoration and development, the Marina el-Alamein archaeological site on Egypt's Mediterranean coast will open to tourists mid-September.
The Marina el-Alamein archaeological site a Hellenistic-Roman town is locatedabout 5km east of el-Alamein.
The ancient city was accidentally discovered in 1986, when construction started on the Marina El-Alamein resort. The archaeological area spans a section that is more than 1km long and about 0.5km wide and is the largest archaeological site on Egypt's north coast.
Minister of Culture, Farouk Hosni, announced that the site will be opened to tourists mid-September complete with a high-tech lighting system throughout the entire site, which will permit visitors to enjoy el-Alamein day and night.
In a bid to encourage local tourism, the entrance fee for the site will be 5LE for Egyptians and 2,50LE for Egyptian students.
It got this name because of the softness and the white colour of its sand
The ancient town of el-Alamein had a harbour with commercial quarter and south of that, the city centre which included baths, markets and a civic basilica.
Over the last ten years, the Polish Archaeological Institute in Cairo and the American Research Center in Egypt have unearthed remains of more than 50 different structures in the town and necropolis.
The earliest archaeological remains dated to the mid 2nd century BC were found in the town's necropolis. It is thought the town was occupied until the 7th century AD.
Dr Zahi Hawass, antiquities tsar, said that the site of el-Alamein was the an important and well-known port during Egypt's Hellenistic-Roman era.
He also pointed out that it is the first archaeological site on the Mediterranean coast to be developed as a tourist friendly site.
The Graeco-Roman name for el-Alamein was 'Locassis', which means 'the white shell'. It got this name because of the softness and the white colour of its sand, explains Dr Mohamed Abdel Maqsoud.
The goddess of love, Aphrodite, was worshipped there and the statues found of her on the site show her emerging from a white shell, in reference to its name.