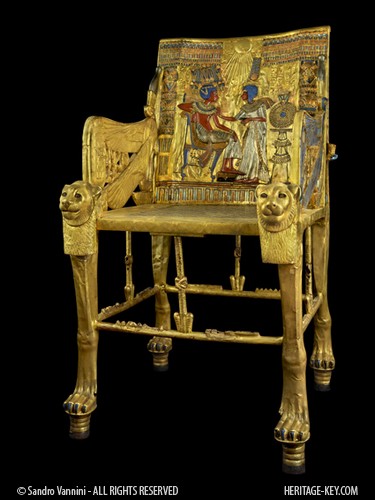 Every great king has a throne from upon which he rules, and King Tutankhamun was no exception with the Golden Throne which is one of the finest pieces of royal furniture ever created. With web-exclusive photography of this breathtaking artefact by world class photographer Sandro Vannini, we can see that this was one chair that is definitely fit for a king! Sure, there are other expensive chairs around in Egypt at the moment, but the beauty of the Golden Throne of King Tutankhamun outshines the many chairs throughout time! On display as a treasure of the Egyptian Museum, Cairo, (as well as a replica which travels around the world) we're able to share the beauty for you to view from the comfort of your own (perhaps not as golden) chair in Sandro's photographs, as well as being able to see digital replicas of other KV62 treasures in our online King Tut Virtual exhibition.
'King Tut's Golden Throne' Slideshow
Heritage Key is working together with Sandro to make his beautiful photography from Egypt available for you to view – which we're certain will please even the most hardcore Eygptophile – on the internet. To watch a slideshow of King Tutankhamun's Golden Throne, just click the thumbnails below.
See it for yourself in King Tut VX
To get immersing, 360 degree views of King Tut's treasures in 3D, all you need to do is register for your avatar in our quick and easy process, and you can start exploring King Tut Virtual. Sandro's photographs are beautiful to stare at, but for the full online experience, come see the digital recreations and be close enough to (virtually) touch them.
Sandro Vannini's Photography
What makes Sandro's photography stand out? Attention for detail and skills gathered over the years in photography gives Sandro the necessary experience to capture the stunning gold and beautiful precious stones of the Golden Throne of King Tutankhamun. Of course, the equipment Sandro uses plays a role too, and he comes well prepared with a Hasselblad ELD Ixpress 528C camera.
So for those of you who cant make the trip to see the Golden Throne, Heritage Key offers these stunning photographs by Sandro Vannini which capture the beauty and magnificence of King Tutankhamuns Golden Throne. But it doesnt stop there: you can visit virtual replicas of Tutankhamun treasures in the Heritage Key VX King Tut exhibition, which features a digital recreation of many breath-taking artefacts.
Don't miss out on new treasures!
This post is part of a series focussing on amazing photographs from ancient Egypt. Keep checking back as well keep adding new images by Sandro Vannini. To make sure you don't miss out on any of the updates, simply subscribe by email to receive notifications when new images are uploaded. For the more digitally advanced, there's also an RSS feed with updates available.
Suggest a Featured Artefact
We're taking suggestions! which of King Tut's treasures you would love to see highlighted on Heritage Key, and we'll consult Sandro's extensive archives to see what we can find for you!
Ask Sandro
We'll be sitting down with our favourite photographer for an extended chat soon, so if you have any questions for Sandro we'll send the answers straight to you!
The Golden Throne of King Tutankhamun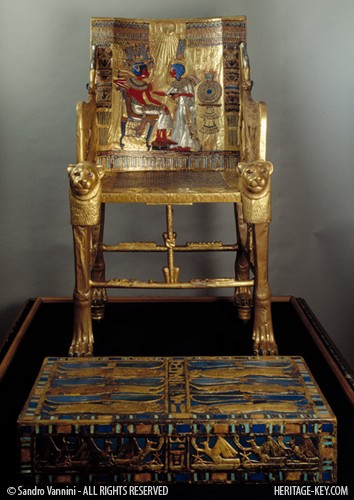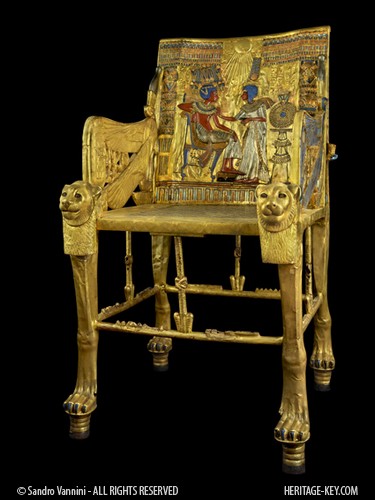 Without a doubt, this is a seat fit for a King. Built from fastened pieces of wood and then covered in gold sheeting or painted gilding, the detail was then carved and completed with semi-precious stones and coloured glass. The throne is almost completely intact, with the only missing piece being the vertical struts between the seat and the leg braces. Dating from the start of Tutankhamun's reign, the throne bears the name of King Tutankhamun and his wife Ankhsenamen (The actual inscription reads "Tutankhaten" and "Ankhsenpaaten" – the names given to them at birth).
Back of the Throne
The back of the Golden Throne shows the image of King Tutankhamun and his wife Ankhsenamen. King Tut is sat in a throne which is not unlike the Golden Throne, and is draped in a broad collar, pleated kilt and a short round wig with an aref crown – an elaborate headress – to complete the look. His feet rest on a footstool, which may have been inscribed with his enemies names so he can quite literally trample them – even whilst sitting down quite comfortably!
The Boy King and his Wife
King Tut's wife stands in front of him with a silver vessel of perfumed oil and wears a beautiful robe and a short "Nubian" wig, completed with a Crown made of two plumes and a sun disk. The artwork of the Egyptians was meant to pass on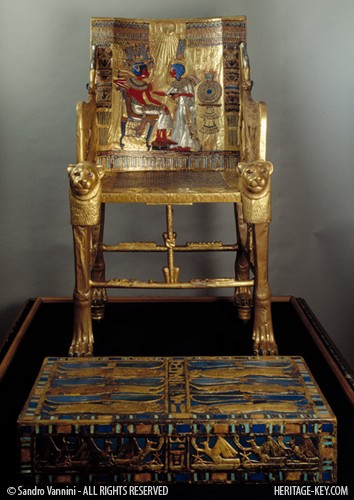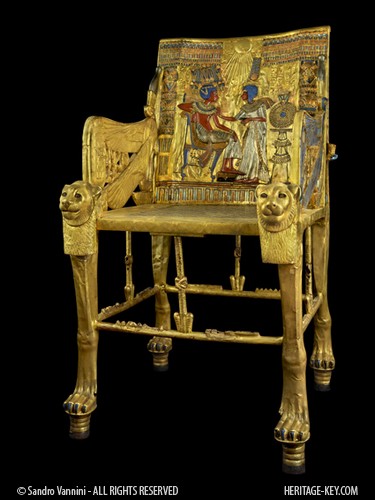 information, rather than to be a photographic snapshot of reality, and the broad collar on a stand next to the two figures is a fine example of this. The royal garmet is made of silver, which was much rarer in Egypt than gold was.
The skin of both King Tutankhamun and his wife are made from a dark red glass, representative of darker complexions. Whilst it was not unusual for male figures to be shown this way, females were usually show to have more golden-yellow skin, perhaps showing that they spent more time indoors away from the strong sun. On the throne, however, both King Tut and Ankhsenamen are shown to be basking in the sunlight of the god Aren, the rays of whom are in the form of the Ankh symbols – representative of life.
Arm Rests
Winged cobras form the arms of the throne, and they wear the double crowns that represent a united Egypt. The theme continues along the back support with smaller cobras peering out, with one wearing the silver crown of Upper Egypt, and the other adorned with the gold crown of Lower Egypt.
The Golden Throne of King Tutankhamun is one of the most spectacular finds from KV62(Tomb of King Tutankhamun) having been preserved in such a beautiful state over several millennia. You can imagine the boy king sat on it as he met ambassadors from various foreign lands with the gleam of the golden treasures intimidating them into respect. Such is the power of the Golden Throne.
Visit King Tut Virtual Today
King Tut Virtual is one of the greatest discoveries you can make online. Travel back in time and explore Ancient Egypt from the comfort of your own computer, discovering the tomb of Tutankhamun and the treasures it holds. Wander down the banks of the River Nile and get up and close with 3D recreations of the treasures of KV62. The detail and realism will astound you, and you can even invite your friends from around the world to join you and help you discover the greatest find in the history of archaeology – the Tomb of King Tutankhamun. Go Virtual simply by registering an account and visit the King Tut Virtual exhibition in Heritage Key VX and learn more about Tutankhamun! You can also see more of Sandro's Photography of other artefacts from Egypt on Heritage Key.