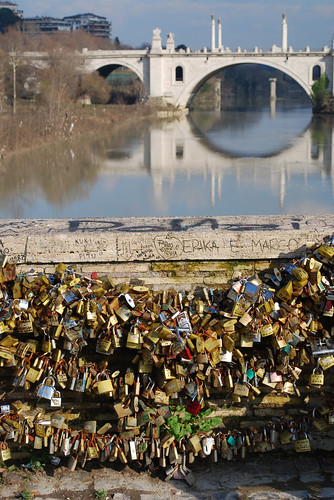 Venice, with its grumpy gondoliers, and Verona, home to Romeo, Juliet and a pink Roman arena, both have formidable reputations as romantic destinations. But Rome too can more than hold its own when it comes to providing entertainment for lovers of all kinds (whether part of a couple or not).
There are several activities and a two-for-one offer on state-owned museums this coming weekend (13 and 14 February) in honour of Saint Valentine's Day, but there's plenty to inspire anyone with a yearning for a bit of romance and culture at any time of the year.
Some of ancient Rome's most famous lovers Mark Antony and Cleopatra, Hadrian and Antinous spent time in the capital. Few statues and monuments remain to remind us of them, but using your imagination has always been an important part of romance!
And when it comes to breath-taking city scenery, Rome, with its seven hills, has a number of romantic locations for a proposal with a view, or even just a panoramic photo opportunity.
Whatever you're in Rome for, here are some suggestions on how to make the most of the Valentine's weekend.
Two-for-one at Rome's Museums
This two-for-the-price-of-one offer from Italy's Ministry of Cultural Heritage applies to state-owned museums and sites throughout Italy and is in honour of Saint Valentine's Day. The offer, which is part of a campaign called 'A San Valentino, innamorati dell'arte', is valid on the 13th and 14th of February and is open to couples of all sorts (i.e., so long as there are two of you, just one person pays and the second can get in free). It's definitely worth pairing-up for.
Among the government-run museums and archaeological sites not to be missed in Rome this weekend are Palazzo Massimo, Palazzo Altemps, Crypta Balbi, the Colosseum, the Roman Forum, the Baths of Caracalla and Galleria Borghese. Galleria Borghese houses Titian's masterpiece, Sacred and Profane Love, and Canova's Venus Victrix, both pieces with obvious themes of love.
If it's a love-themed visit you're after, a visit to the Capitoline Museums is always worthwhile (although they're not included in the two-for-one offer). The Capitoline Venus, modestly attempting to cover her naked form with a hand, has her own alcove while a nearby hall houses two statues, the Young and the Old Centaur, found at Hadrian's villa in Tivoli. Hadrian never really got over the premature death of his young lover Antinous, and the two centaurs, said to represent young and old love, are very moving in that context. After Antinous drowned in mysterious circumstances in the Nile at the age of 19, in 130 AD, the aged Hadrian spent the last years of his life at Tivoli.
If you're in any doubt about how beautiful Antinous may have been, you can see a bust of him at Palazzo Altemps, which is a gem of a museum that also holds the Ludovisi Throne a piece famous for its flowing lines and movement as well as a statue of Aphrodite, the Greek goddess of love.
Ostia Antica The House of Cupid and Psyche
As well as the two-for-one entry to state-owned museums and sites, there are several other free activities planned for the 13th and 14th of February. The House of Cupid (Amore) and Psyche, at Ostia Antica, is a well preserved Roman house, or domus, from the late imperial era. It takes its name from the statue of the a couple Cupid and Psyche in a passionate embrace, found in one of the rooms of the house. This Saturday, 13 February at 11am, a workshop aimed at families will explore the marble floors of the house (in opus sectile) and its history. Booking is necessary by contacting lucia.piastra@beniculturali.it – tel. 06 56358092.
Rome's Famous Lovers Antony and Cleopatra
The Roman commander Mark Antony and the Egyptian queen Cleopatra are ancient Rome's most famous lovers. Of course it wasn't a straight-forward love affair. She was previously the lover of Julius Caesar, while Antony was married, first to Fulvia and then to Octavian's sister, Octavia. A cynic might wonder how Cleopatra managed to seduce not one but two of Rome's most powerful men these were surely relationships based on power, lust and politics rather than love?
In his play, Shakespeare depicts them as a pair of utterly smitten lovers though, who let their passion for each other over-ride their political sagacity. Cleopatra spent time in Rome as the mistress of Julius Caesar, but she quickly left after his assassination. Today there is little left in Rome that personally commemorates Cleopatra.
However, her legacy was perhaps the Egyptian influence seen in monuments that are dotted around Rome. There are 13 Egyptian obelisks in the city (some imported from Egypt by the Romans and some made during the empire in Egyptian style). The obelisk at the centre of piazza del Popolo comes from Heliopolis and was erected by Rameses II. It was brought to Rome by Augustus (Octavian) in 30 BC the year that Antony and Cleopatra killed themselves, following their defeat at the Battle of Actium.
Other obelisks are in the middle of Piazza Navona (Domitian's Obelisk), in front of the government building Palazzo di Montecitorio (this was originally built by Psammetichus II in the 7th century BC). Behind the Pantheon, in piazza di Santa Maria sopra Minerva, there is a small obelisk mounted (by Gian Lorenzo Bernini) on the back of a small elephant.
The Egyptian rooms at the exquisite museum Palazzo Altemps (near piazza Navona) also show off some of the Egyptian statues that found their way to ancient Rome, often as part of the cult of Isis.
Although in reality Cleopatra was probably not a physical beauty, in Shakespeare's play her charms completely entrance Mark Antony. She probably had more charisma and wit rather than chocolate-box prettiness. Some of her most memorable lines from the play include this passionate memory of the early days of their love affair:
Eternity was in our lips and eyes,
Bliss in our brows bent.
Antony is ready to renounce everything he has for Cleopatra he turns his back on Octavia, on Octavian and on Rome itself:
Let Rome in Tiber melt, and the wide arch
Of the ranged empire fall! Here is my space.
Photo Opportunities and Seductive Spots
It's handy to know where romantic lovers like to hang out in Rome. If you're part of a couple yourself, you might like to take your other half up to one of the hill-top balconies for a night-time view of the city and its many cupolas. On the other hand you might also want to avoid these places like the plague if you're not in a romantic frame of mind. Either way, it's good to know.
Piazzale Giuseppe Garibaldi is one of the most famous panoramic balconies in Rome. It's on the Janiculum Hill and overlooks the whole city. You might need a taxi to get up there from Campo dei Fiori, or you could try walking up from Trastevere.
Another well known spot is Lo Zodiaco, on viale del Parco Mellini. With stunning views of Rome, there's also a restaurant and bar, which will no doubt need to be booked ahead this weekend (Tel. 06 35496744).
Other spots to watch the sun go down, and to admire the acrobatic starling formations over Rome in the late afternoons, include the Pincian Hill in Villa Borghese, overlooking piazza del Popolo, although for those who really want a bird's eye view should attempt a trip to the cupola of Saint Peter's Basilica.
Another spot for lovers is the unlikely Ponte Milvio site of a bloody battle in 312 AD, which saw Constantine I become the first Christian emperor of Rome, and heralded the start of the Christian epoch. As Constantine's army pressed down on Rome, Maxentius's men were pushed back and many of them including Maxentius himself were drowned in the Tiber. These days Ponte Milvio has become a spot for lovers and many of them leave a lasting dedication in the form of a padlock signed with their names.
If Pizza is the Food of Love…
Of course a romantic trip to Rome isn't complete without as much good food as you can fit in. Nobody should visit Rome without trying pizza, artichokes and tiramisu.
Try the Tiramisu from Bar Pompi, on via Albalonga, off piazza Re di Roma (it's on the metro line). It's legendary amongst Romans for one good reason: it's utterly fantastic. You can eat it in the bar, or have a take-away portion to eat out.
A trip to Rome isn't complete without a thin-based Roman pizza. For a pizzeria with a bit of Roman cheek and energy, try La Montecarlo, on vicolo Savelli off Corso Vittorio Emanuele. It's frenetic, fast, but the food is tasty.
February is a good time to try one of the Roman delicacies the artichoke. It's most commonly served in most restaurants 'alla romana', cooked slowly in olive oil with roman mint. Or go to the historic restaurant 'Da Gigetto' in the Jewish quarter, right next to the Porticus of Octavia and Marcellus's Theatre, for artichokes 'alla giudea', which is deep-fried and crispy.