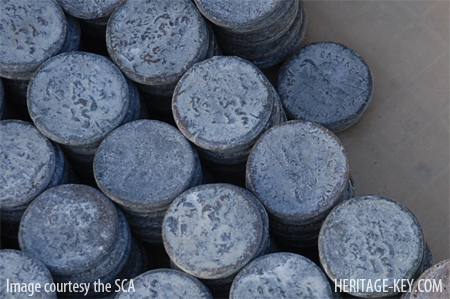 Egyptian Minister of Culture Farouk Hosni announced today the discovery of 383 coins from the Ptolemaic period near the Fayum Oasis. Prehistoric jewellery made from ostrich eggs, and a skeleton of a 42-million-year-old whale were unearthed as well.
According to the statement released by the SCA (Supreme Council of Antiquities) the coinage, very well preserved and dating to the reign of King Ptolemy III (246 to 222BC), was discovered during routine excavations north of Lake Quarun.
Dr. Zahi Hawass, Secretary General of the SCA, said that the 383 coins are fashioned out of bronze and have a weight of 32 grams each.
The bronze coins are decorated on one side with a scene depicting the god Amon-Zeus (Amon was identified by the Greeks as a form of Zeus), with two horns and a cobra. The other side of the coin is decorated with a falcon standing on a wooden branch. Underneath, 'King Ptolemy' is written in Greek.
The excavation – spanning an area of 1 x 7 km – also uncovered antiquities that can be dated to several historical eras, from the prehistoric to the Ottoman period.
Three prehistoric necklaces made of ostrich eggs were discovered, as well as a Kohl container and two decorated rings from the Ottoman period.
Khaled Saad, director of the Prehistoric Department of the SCA, asserted that the ostrich egg necklaces are unique. The technique used to create the jewellery has never been seen before in prehistoric (over 5,000 year old) necklaces.
Even older is the skeleton of a whale unearthed at the site, which dates back 42 million years. Whale fossils are not a rare occurance in ancient Egypt. AtWadi El Hitan – the Valley of the Whales, south west of the Faiyum Oasis – a remarkable concentration of fossilised whale skeletons can be found, and visited.
The whale fossil and the prehistoric necklaces will go on display in the planned site museum.