New research from an American university may have blown apart a 90 year-old secret of the Sumerian city of Ur. CT scans of crushed skulls from the 4,500 year-old city-state appear to show that palace attendants met a brutal death at the hands of spiked weapons, rather than the tranquil poisoning previously mooted.
Research carried out by British archaeologist Leonard Woolley in 1920 discovered a 2,000 burial-strong cemetery, laden with jewels and gold treasures. Their elaborate attire showed they were various courtiers of the time – warriors, handmaids, etc – and seemed to prove human sacrifice was prevalent in the city. Yet many of the skulls were crushed by the weight of soil, leading Woolley to conclude they were led into burial chambers before drinking lethal poison.
"Its almost like mass murder and hard for us to understand."
The latest evidence, a collaboration between the University of Pennsylvania and the British Museum, pieced together two skulls, of a man and woman. Holes in both, the team concluded, could only have been made while the person was living and the bone was strong. Thus Ur's courtiers must have met a gruesome demise; their heads stoved in with sharp instruments such as pikes.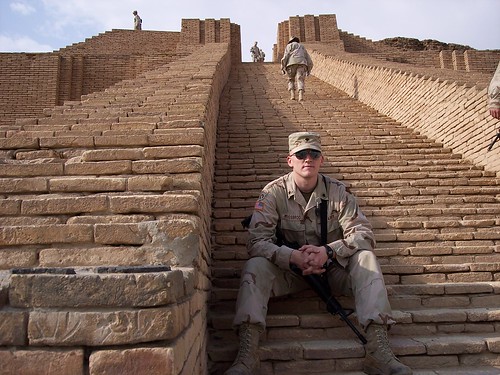 Attendants at the city-state, in modern-day south east Iraq, had long been thought to have been killed upon (or before) the death of a royal. Athropologist Janet M. Monge, who led the research, attempts to explain why courtiers went so willingly to their deaths: "Its almost like mass murder and hard for us to understand," she says. "But in the culture these were positions of great honor, and you lived well in the court, so it was a trade-off. Besides, the movement into the next world was not for them necessarily something to fear."
Ur is thought to have been one of the first cities in the world. And it may just have come through its latest bloodshed, as an air base protecting it from looting in the wake of the Iraq War was recently handed back to the Iraqi government. Yet it's only the tip of the iceberg lurking beneath the Middle-Eastern nation's cultural heritage: items are still being stolen from museums, and the US Army has come under severe criticism for its failure to prevent the destruction of precious sites such as Babylon.
The University of Pennsylvania Museum of Archaeology and Anthropology recently opened a new long-term exhibition, Iraq's Ancient Past – which brings many details of the first expeditions to the ancient city of Ur vividly to life through field notes, photographs and archival documents, and more than 220 extraordinary ancient artefacts unearthed at the excavation. The exhibition looks at the present and to the future as well, exploring the ongoing story of scientific inquiry, research and discovery made possible by those excavations, and the pressing issues around the preservation of Iraq's cultural heritage today.