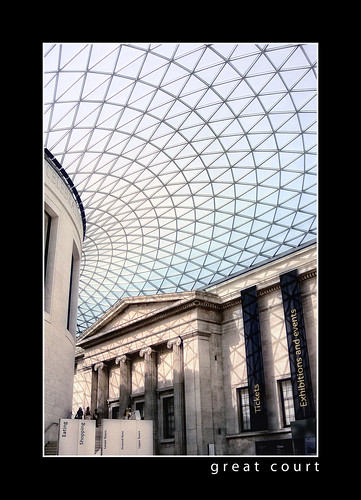 How many ancient artefacts are on show at the British Museum? Sounds like an easy question: after all, surely it's just a case of finding the right person and writing down a figure, right? I mean, the British Museum is the second most visited museum on the planet behind the Louvre, and well over half the Louvre's collection is non-ancient (for an explanation of what 'ancient' actually is check out Jon's blog here) – someone must know how much stuff is on show. For the short story, the numbers and how I came to my conclusions click here. If not read on and suffer with me.
First port of call: the museum's press office, who could only tell me the museum holds a total of around 6,000,000 artefacts. Around? It's not a great omen if the press office doesn't even know its own total collection, let alone how much of that has made it from storage into display cases. I was whisked off to another department:"We have around six million items in total, sir, but I'm not sure of the number on display – maybe one of our guidebooks has what you're after."
Sounds like an easy question, right? Wrong.
No other web source had the answer, unsurprisingly, so it was off to the BM itself, on a balmy summer's afternoon, to find out for myself just what its magic number was. My first port of call was the information desk. By definition that was where I should be looking, right? Again, no. I had a very nice flick through some of the museum's guidebooks, and a perfectly pleasant conversation, but no number. So armed with nothing but a phone, notepad and a C in GCSE Maths I set off in search of the British Museum's magic number (see the British Museum's top ten treaures here).
I quick foray into the Egyptian Gallery later I'd noted 160 Egyptian artefacts, alongside 100 Near Eastern pieces (I counted the Assyrian Lion Hunt as one item). There were even fewer in the nearby Greek marbles room – just thirty with the controversial Elgin Marbles counted as one. But these were three of what I've cleverly dubbed the BM's 'big' rooms, the showcase bits with the headline treasures like the aforementioned marbles and the Rosetta Stone. On my reckoning there are eight of these, counting the famously beautiful stair wells.
That leaves another 87 rooms unaccounted for 85 when you consider that two of the rooms, 'Enlightenment' and 'Life and Death' are non-ancient. So I headed up to some of the 'small' rooms to see what they would add to the number. 'Greeks in Italy': 740 (roughly, mind I couldn't count each and every item individually). 'Cyprus': 400; 'Tomb of Nebamun': 100 and the upstairs Egyptian galleries a whopping 1,500 between the four of them. Based on that information, and by checking how large or small the rooms are, I finally found my (rough) answer: 43,000.
How did I get 43,000? I flattened out each 'big' room's items at 100, and multiplied by six. I then added this figure to that of the smaller rooms, which I averaged at 500 items per room. I then rounded down ever-so-slightly, though I think this number is fairly accurate. Even if I'm a fair distance out my number betrays a massive discrepancy between the museum's six million artefacts in total and what's on show: less than one per cent. I think we'd all like to explore the British Museum's vast archives, but judging by this you'd be dead before you made it halfway.
Heritage Key is completing a list of the world's greatest museums, taking in visitor numbers, collections and great treasures. We'll also have an amazing map of the top museums for you to enjoy!