London is one of the world's best cities to see ancient culture. You can ramble round Roman London, see Seti's sarcophagus at the Soane, explore the hidden pleasures of the Petrie Museum, or get lost in the British Museum, where you'll see amazing artefacts from all over the world – including the Elgin Marbles, Rosetta Stone and great Mesopotamian relics.
But what about the wonders lying just outside the city limits? There are Roman villas dotted all round London, and ancient treasures are never more than a short train journey away. One of the best days out can be had heading out west, where two homes of Britain's spirit of adventure are waiting no more than an hour away. Why not try this easy guide and see both in one go?
First Stop: London to Oxford
By rail: London Paddington to Oxford, 57 minutes, 19.90.
By car:London to Oxford, 60 miles, 1hr30mins approx.
Oxford is a city worth seeing even without its mighty Ashmolean Museum, the oldest museum in the world. Open to the public since 1683, the museum has just emerged from a 61million, two-year revamp: its elegant lines and bright corridors bring it steaming into the 21st century in style. Highlights among its huge collection include the 9th century Saxon Alfred Jewel, the Egyptian king Scorpion's macehead and an eerie 7,000 BC shell-inlaid skull from Jericho.
After you've admired the Ashmolean, try one of Oxford's excellent pubs. Many date back hundreds of years, and you can get top-notch British ale and steaming hot pub-grub while watching the doctors, statesmen and lawyers of tomorrow zipping off to their next lecture on antiquated bicycles. Don't be tempted with that second/third pint though – there's much more to see yet…
Second Stop: Oxford to Highclere Castle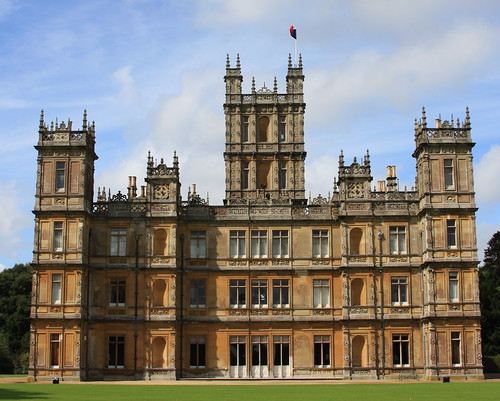 By rail: Oxford – Reading – Newbury, 45mins approx, 10, then taxi to Highclere Castle (10mins, 5-10)
By car: Oxford to Highclere Castle, 30 miles, 40mins
Just south of the picturesque town of Newbury, famous for its historic horse-racing course, is Highclere Castle: a giant 17th century mansion sitting astride a 6,000-acre estate complete with gardens and temples. Yet this is more than a stunning British country manor: Highclere has been the seat of the Earls of Carnarvon for centuries, including George Herbert, the 5th Earl of Carnarvon, who alongside Howard Carter discovered the tomb of Tutankhamun in 1922.
But you can do more than simply stroll around the caslte and its grounds; symbols of the great spirit of adventure which spurred the 5th Earl towards Ancient Egypt. The castle's current residents, George Herbert, 8th Earl of Carnarvon and his wife Fiona, 8th Countess of Carnarvon have installed their own Egyptian exhibition in the castle's labyrinthine cellars. As well as original artefacts and an authentic mummy from Egypt, the show stores a myriad replica King Tut relics, including his golden death mask and wall paintings.
If you've got your walking boots on, you may even want to hike up to a tiny hilltop cemetery in the estate's distant boundary: it's the final resting place of the 5th Earl. After that you'll be gasping with thirst, so treat yourself to a cuppa in the castle's tea rooms. If you want to learn more about the discovery, Fiona has written two books: Carnarvon& Carterand Egypt at Highclere: The Discovery of Tutankhamun.
By now you'll no doubt be lagging after your long day of ancient discovery. So hop on a train or drive your way back to London for a well-earned rest. You'll need it if you're going to see anywhere near what the city has to offer.
Watch a video featuring Lord and Lady Carnarvon, on the discovery of Tutankhamun, here. You can also purchase Fiona Carnarvon's books right here at Heritage Key –

Buy Carnarvon & Carter HERE
Buy Egypt at Highclere: The Discovery of Tutankhamun HERE