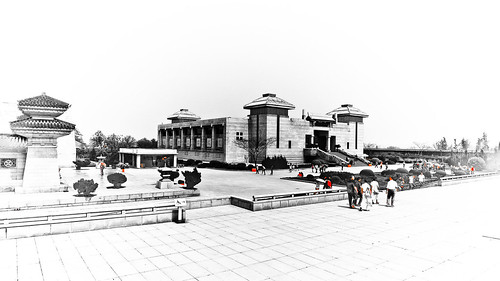 David Oakley's photostream is a complete joy to scan through, just for the beautiful simplicity of the effects he applies to his photographs in Adobe Lightroom to give such a unique style. I've selected an image of the Terracotta Army Museum in Xi'an, China to represent exactly how gorgeous this technique turns out.
It looks as if it's been inked out on paper, such is the power of post-processing software these days – it's incredible the various effects that can be achieved given talent with a computer and graphics editing software. Anyone can be an artist without ever needing to pick up a pencil!
Of course it'd take a while before we can reach David Oakley's sort of skill, but they do say practice makes perfect!
Of course, the Terracotta Army Museum is home of China's most amazing archaeological find – the Terracotta Warriors. Discovered barely a couple of decades ago, the warriors have astounded the world for the sheer scale of the pits and excavations continue to uncover what secrets remain to be found.
Read more about the Terracotta Warriors here at Heritage Key, and have a look at the stunning art over on David Oakley's Flickr photostream!