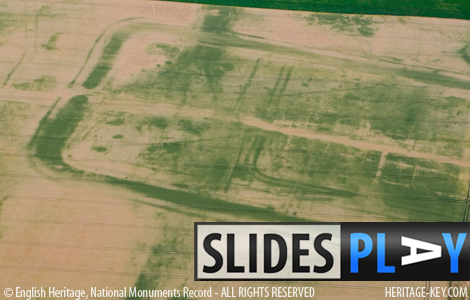 The sunny, dry spells of May and June over Britain were enjoyed immensely by the populace, but it wasn't just Brits who were taking advantage of the soaring temperatures. Archaeologists were taking to the skies to observe cropmarks which occur when wheat or barley crops grown over ancient buried sites at a different rate. The aerial surveys have produced many new discoveries, including newly-discovered Roman and prehistoric settlements, representing the most successful summer flights since the drought of 1976.
Results of the flight have revealed the Roman fort in Newton Kyme, North Yorkshire to be bigger than previously thought, with a larger, stronger defence built in 290AD covering seven hectares, with stone walls up to three metres thick and a ditch 15 metres wide. Large ditches of the defences were visible, along with many signs of buildings, roads and other activity within the fort.
New discoveries included a Roman fort discovered in Dorest, a region where only three other known forts are known. The fort, near Bradford Abbas, is a lightly built defensive enclosure that provided basic protection for Roman soldiers while on manoeuvres in the 1st century AD. It was noticed during June after three sides became visible in the drought-ridden fields of crops. Flights over the Holderness area of the East Riding uncovered about 60 new sites including livestock and settlement enclosures, mainly from the prehistoric era.
The summer of the Icelandic ash cloud which saw many flights across Britain (including new flights to Iraq) grounded surprisingly proved advantageous to the aerial researchers, who conducted their flights using piston-powered Cessna aircraft, which were unaffected by the flight ban. The quieter skies meant flights could be carried out over airspace normally used by traffic to Gatwick, Standsted, Bristol and Luton.
Dave MacLeod, English Heritage Senior Investigator based in York, said: Its hard to remember a better year. Cropmarks are always at their best in dry weather, but the last few summers have been a disappointment. This year we have taken full advantage of the conditions. We try to concentrate on areas that in an average year dont produce much archaeology. Sorties to the West Midlands and Cumbria, together with more local areas such as the Yorkshire Wolds and Vale of York, have all been very rewarding.
Damian Grady, a Swindon-based English Heritage senior investigator added: "It will take some time to take stock of all the sites we have photographed, but we expect to discover several hundred new sites across England."