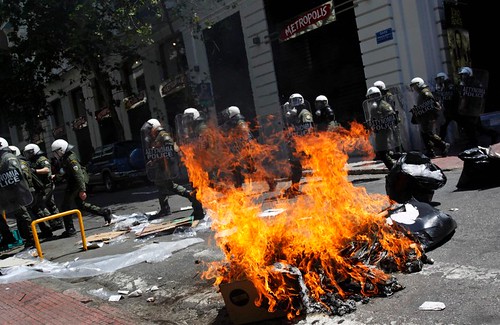 Financial austerity measures were a grave problem in ancient Greece too it seems quite literally. In the same week that the European Union and the International Monetary Fund have been asked by Greece to unblock the first tranche of a 110-billion (93 billion) bail-out loan package in exchange for severe spending cuts, archaeologists have revealed how 2,300 years ago people in the northern Greek region of Macedonia were forced to scale back on funeral offerings, probably on orders from the king.
The AFP reports that senior archaeologist for the Greek Archaeological Service Manthos Besios told Athens daily newspaper Ta Nea how, in the 4th century BC, graves in Pydna a prominent city in the ancient kingdom made famous by Alexander the Great (winner of our recent fantasy election), which is currently under excavation with Besios as deputy supervisor contained such treasures as gold jewels, elaborate vases and ivory-plated beds.
Era of Austerity
Fast forward a century to the reign of King Cassander of Macedon, and people in the same area were being buried with cheaper materials such as clay.
If one wanted to make light of the situation, one could replace the IMF with King Cassander in todays terms.
At the close of the fourth century, a decree issued by Cassanders commander in Macedon-occupied Athens forbade the building of elaborate funeral monuments and limited spending on ceremonies, said Besios. He linked the find to Greeces modern economic crisis. It was like the period we are going through today one that will possibly be found by an archaeologist of the future.
If one wanted to make light of the situation, one could replace the IMF with King Cassander in todays terms, he added. Good to see someones managing to laugh amid all this economic doom and gloom.
Credit Crunch of Antalya
The findings at Pydna follow evidence of another Greek mini financial crisis around 500 years later in the city of Rhodiapolis. As Sean blogged, a new excavation of the coastal settlement near the modern Turkish city of Antalya has yielded a large stone tablet, on which the citys inhabitants had sometimes towards the 3rd century AD etched their dismay at rising taxes under the then-Roman Emperor Septimius Severus.
Surprisingly, Severus yielded and promised to lower rates for Rhodiapolis. Heres hoping the economic unrest currently rocking Greece eventually comes to a similarly amicable conclusion.