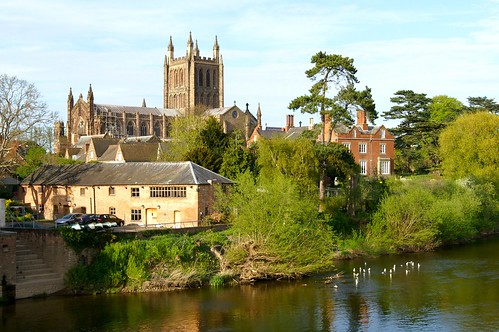 An unusual Roman burial has been uncovered at a site near Hereford. The female, buried in the first or second century AD, was unusually strong and is buried in a well made coffin.
Robin Jackson, senior project manager from Worcestershire council's Historic Environment and Archaeology Service, was excavating at the site. He said: We've been working on the site for three months now and four burials have been found under a building. One of these is slightly unusual, in that it contains the remains of a woman who was very strongly built. She had obviously done hard physical work during her life, suggesting possibly a peasant labourer, but the anomaly is that she is buried in a slightly higher status coffin.
The explanation for this intriguing set of circumstances is not yet clear. At first it was thought the individual was male due to the long thigh bones. However, according to an archaeological osteologist at the site, the pelvis and skull show female characteristics, suggesting that the individual was in fact a tall female.
The experts were able to tell that she had been physically strong due to ridges and puckering on the bones where the muscles and tendons had been attached and had exerted pressure on the bone.
The bones need to be analysed at a laboratory to establish a more exact date of burial, the age of the woman and other information such as height, health and race or provenance. This process will take up to a year.
Roman Kenchester
The site being excavated is on the outskirts of Credenhill about 6km north-west of Hereford. It's at the site of the Roman town of Kenchester, known as Magnis to the Romans, which was an important market town for the Dobunni tribe. It's also near a Roman road built in the first century AD, which today runs between Stretton Sugwas and Burcott.
The excavations are being carried out in preparation for the Yazor Brook Flood Alleviation Scheme, which is diverting a local river in order to avert flooding at Hereford. The excavation is being carried out by Amey Consulting and Herefordshire Council's archaeology team.
Roman Burials
The woman is laid out in a foetal position and the remains of three metal straps and bronze decorative bindings suggest that the coffin may have been large and similar to a sea chest in shape.
A much more likely explanation is that she was born into a peasant family in Roman-occupied Britain, but then made a good marriage and was buried in a well made coffin
Burial traditions during the four centuries of Roman occupation of Britain varied. Cremations, burial in pots, coffins and shrouds were all used. Robin Jackson said: It was common to be buried in a coffin in Roman times, but it would indicate someone who had a bit of money.
Pottery and a cow bone have also been found in the grave, suggesting that the woman was buried with an offering of beef not uncommon, according to the site's excavators.
The Female Gladiator?
The BBC reported yesterday that the burial could possibly be that of a female gladiator.
This is highly unlikely, according to Robin Jackson. He said: There are no weapons buried in the grave with her, nor are there any icons that gladiators often had buried with them. There isn't even any evidence of an arena at Kenchester, so there is no evidence suggesting this was a female gladiator.
So there are few similarities between the strong woman buried near Hereford and the grave of the female gladiator excavated in London near the Roman arena.
Is there a more rational explanation for this female burial near Hereford?
At this stage, very little can be said with certainty but Mr Jackson would bet money on her not being a female gladiator: That is very unlikely, he said. A much more likely explanation is that she was born into a peasant family in Roman-occupied Britain, but then made a good marriage and was buried in a well made coffin.