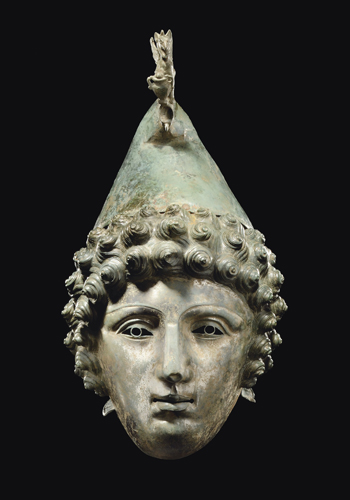 Earlier this year, an astonishing Roman cavalry helmet was discovered in Cumbria. The helmet found complete with face mask is only the fifth known example discovered in the United Kingdom.
Next month, the parade helmet will go on auction at Christie's London, with Carlisle's Tullie House Museum as one of the eager bidders for the 200,000 artefact.
Crosby Garrett Helmet Discovery
The helmet was discovered damaged it was broken in 67 pieces but near-complete by a metal detectoristat Crosby Garrett in Cumbria, in May 2010 (images of the headpiece in its discovery state can be seen on the Portable Antiquities Scheme (PAS) website). The find was then restored by conservators at Christies.
It is a pity that the object was restored before there was any opportunity to examine it scientifically, as that would have given us more information about how it came to be in the ground, said Roger Bland, Head of Portable Antiquities and Treasure at the British Museum.
'Sports' Helmet for the Roman Auxiliary Cavalry
The helmet is of the Phygian type (named for its shape, alike to a Phrygian cap), and dated to the late 1st or 2nd Century AD. It had a griffin figurine crest attachment.
Its facemask depicts an idealised youthful visage in Greek style, clean shaven with a head of luxurious curly hare.
In antiquity, the polished white-metal surface of the Crosby Garrett face-mask would have provided a striking contrast to the original golden-bronze colour of the hair and Phrygian cap.
Detail of the griffin at the top of the restored 'Phrygian Cap' and side view of the Roman helmet and facemask. Images copyright Christie's.
In addition, colourful streamers may have been attached to the rings along the back ridge and on the griffin crest.
The Hippika Gymnasia
The Crosby Garrett Helmet would not have been worn in combat, but on the occasion of 'cavalry sports' events, the hippika gymnasia.
Arrian of Nicomedia, a Roman provincial governor under Hadrian, provides us with the only surviving contemporary source of information on cavalry sports events.
The historian describes, in an appendix to his Ars Tactica, how the cavalrymen were divided into two teams which took turns to attack and defend. Hesuggests that the wearing of these helmets was a mark of rank or excellence in horsemanship.
Top 3 Antiquities Sales at Christie's
1. The Jenkin's Venus – 7,926,650 in 2002
2. Canford Assyrian Relief – 7,701,500
3. Statue of Ka-Nefer – $2,816,000
See more
The Roman cavalry sports helmets are thought to have been commissioned and purchased by individual soldiers.
Unlike their combat gear which they were issued and required to return at the end of their period of service these types of helmets are often found at burials and other in non-military contexts.
Context of the Find
The helmet's find spot has been visited by local archaeologists and PAS staff, and a preliminary assessment has been made of the discovery site.
So far, previously unknown evidence for human occupation in the immediate vicinity of the find spot has been revealed.
We very much hope to be able to investigate this further, as it is important to know as much as possible about the context of the find, said Sally Worrel, National Finds Adviser for PAS.
See the Crosby Garrett Helmet… now its still in the UK
The Crosby Garrett helmet will be on public display atChristie's King Street salerooms from 14 September and at South Kensington from 2 to 6 October.On 7 October, it will be offered for auction at Christie's (Lot 176 Sale 5488), where it is estimated to realise between 200,000 and 300,000.
"This is a hugely important discovery and we expect considerable interest at both the public preview and at the auction where it is sure to generate great excitement from museums and collectors alike, said Georgiana Aitken, Head of Antiquities at Christie's London (read an interview with her on Auctioning Antiquities).
To prevent the Crosby Garrett helmet going abroad, one of the bidders will be Carlisle's Tullie House Museum, but as pointed out by Roger Bland it is always difficult for a museum to acquire an object like this at auction.
We wish the Tullie House Museum best of luck, and fewest of competition!
* Wondering – we certainly did – why this valuable find does not fall under 'The Treasure Act' (which most of the time means valuation by the British Museum and purchase by a museum or a group of museums)? Apparently, an object needs to be over 300 years old when found (check) and contain at least 10 per cent by weight of precious metal (gold or silver) to be considered 'treasure'. Yet, if a 'hoard' of Bronze Helmets would have been found (more than two?), it would have qualified as treasure.