Today was yet another glorious day, as I stumbled over quite a few small museums, universities and organisations that put their 'heritage' photographs online – on Flickr to be more precise – for the world to enjoy. Amongst today's discoveries are the Manchester Museum (also check out their very museum 2.0 project 'Manchester Hermit'), the Salisbury Museum (how to move an ancient Roman sarcophagus) and Wessex Archaeology. And then of course there are all those awesome ancient world photographs in 'The Commons'.
But you do not even need to be an institution specialising in archaeology to hold an interesting archive. The Cornell University Library proves this by making their 'A.D. White Architectural Photos' available to the public under a – very generous – Creative Commons Attribution license. The collection holds photographs taken as early as beginning 19th century from Egypt, Italy, Syria and many other interesting places (like Belgium! ;)).
I can't help but shout: 'Hail the Digital Era!' as slowly (some faster than others) but certain (well, almost certain) libraries open up their archives, scan, tag, share, compare and access is no longer restricted to 9 to 5, on the campus itself. It must rock to be a librarian in this age, finally being truelly able to share your precious collection with the entire world?
My 5 favourites from the Cornell University Library's collection on Flickr:
Egyptian Temple Complex, Egypt
An aerial photograph dating from 1914 by Kofler of the ruins of what I think is the Temple of Hathor at Dendera. (Feel free to correct me if I'm mistaken, but the geolocation does say 'Asyut'.) the Mortuary Temple of Ramesses III at Medinet Habu. Not satisfied yet?Great!Kofler took another awesome shot, which gives you an entire different look on the temple.
Apamea, Syria
Taken in the late 19th century in Syria, this photograph of a majestic tomb at Apameia is astonishing. Although I did my best, I could not find a 'current' image of the tomb. ;(
Pyramid of Khafre and the Sphinx, Egypt
Of course, the Great Sphinx and the Giza pyramids are always impressive, but 'ancient' (in photography terms) images of it seem to stress the monument's 'ancientness' (in world culture terms) even more. That and it wasn't as excavated as much as it is nowadays, which definitely adds to this photographs charm.
(I really wish I've found this photograph before staring on my pyramidiot theories.)
The Arena at Verona, Italy
This photograph of the Verona Arena and Piazza Br snapped by Fratelli Alinari shows that already in the early 19th century one could do sensible city planning and keep the cars – or horses – far enough from the monuments. Take that, Rome! 😉
Model of King Sahure's Pyramid at Abusir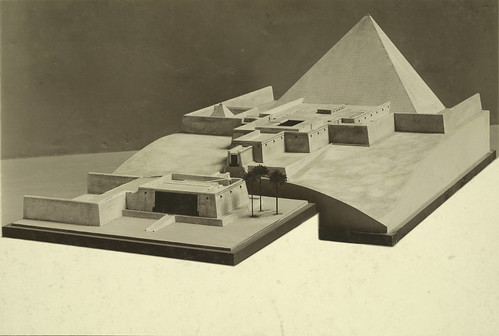 Nostalgia! One can find them still in musea, the white physical scale replicas of ancient monuments we're all so familiar with – such as this one of King Sahure's Pyramid constructed by the Stegemann Brothers – but soon, these will be considered just as outdated ancient as the monuments they represent?
All images courtesy
the Cornell University Library.
(Since April 2009 also on Flickr! Welcome! ;))