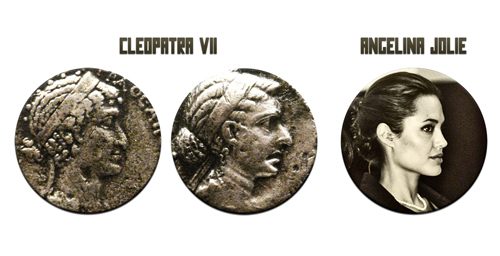 Angelina Jolie will play Cleopatra, the last queen of Egypt, in a film adapted from Stacy Schiff's upcoming book 'Cleopatra: A Life'. It's hardly likely to subdue those arguing Cleopatra was little more than 'Egypt's sex kitten' (opposed by myself, Nele and Rosemary Joyce in her blog and book 'Ancient Bodies', I must say), but it's exciting news nonetheless.
The book won't be published until autumn 2010, but producer Scott Rudin has already purchased film rights, saying the movie 'is being developed for and with Jolie'. Author Schiff has even hinted at Brad Pitt playing Roman general Mark Antony, reminding us of the 1963's Cleopatra starring (brief) Hollywood sweethearts Elizabeth Taylor and Richard Burton.
Although I'm curious for the end result, I believe Jolie is miscast in this role. She does great goddesses (Beowulf) and mythical figures (Alexander), but Cleopatra was a real figure, ruling in Graeco-Roman times. Angelina Jolie is even a closer match to the Nefertiti Bust than Cleopatra VII, Ptolemaic Queen!
Maybe with sexy Jolie in the lead (or especially with Jolie in the lead) it won't all be about Cleopatra's two love affairs. Maybe the ruler of Egypt will get as much credit for 'ruling' as Caesar and Mark Anthony? Maybe they'll realise there is no need to recreate the 1963 hype of having a celebrity couple as Cleopatra and Mark Anthony (Mrs and Mr Smith should be a warning)? Maybe Asterix and Obelix will get a cameo role? Maybe the film will indeed dispel the Cleopatramovie myths that focusedon glamour and Cleopatra's skills as seductress?
Regardless of the narrative's balance, the movie should encourage people to read up on ancient Egypt. But definitely, independent of how Egypt's queen is portrayed, 'Cleopatra(2011)' promises to be just like Troy and Alexander a major blockbuster. Sadly blockbusters can only really be blockbusters when they contain enough disaster and/or violence and eroticism, right?
If you had no budget limitations, and people could be raised from the dead (without looking like zombies), who would you cast as Cleopatra, Mark Anthony and Julius Caesar?
On a happier note, Henry Cavill (The Tudor's Charles Brandon) as Theseus in Tarsem Singh's 'Immortals' (originally titled 'War of the Gods') now has an official release date, November 11th 2011. Director Tarsem Siggh (The Cell) describes Immortals as 'Caravaggio meets Fight Club' (rather than historically correct) and even Stephen Dorff returns to the screen as Stavros, helping Theseus to free Greece from the dark threat of the Titans. Except for post-shooting rendering to 3D, surely nothing can go wrong with this one?