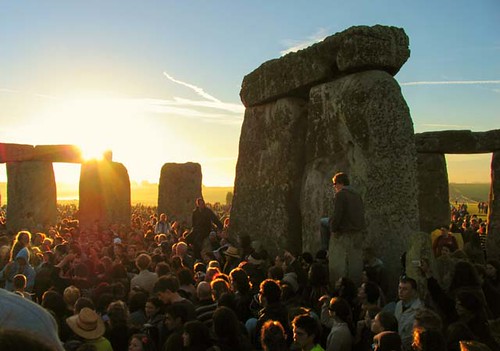 Thanks to being fenced off by English Heritage to much druidic chagrin, Stonehenge is now largely the preserve of sedate tourist visits. Yet four times a year – during both equinoxes and solstices – the great stones are opened to the public in order to celebrate the ties between Britain's most famous prehistoric monument and the heavens.
This Sunday on June 21, the summer solstice welcomes a whole host of druids, hippies and revellers to marvel at the giant megaliths – which many claim to have been an ancient temple to the sun. Last year some 30,000 foolhardy fun-lovers braved some damp conditions to see it through 'til sunrise, around 5am. Police have always maintained a visible presence – last year 15 slightly over-zealous Stonehenge fans made their way to a West Country cell for the night – yet generally the atmosphere is sure to be electric, with worshippers standing hand-in-hand with hippies and the plain curious to pay homage to what they feel is their spiritual home.
Though no amplified music is allowed at the site, many people bring drums, horns and other instruments. And thanks to the site being expected to be open to revellers by around 8.30pm, spirits are sure to be high come the sun's sparkling arrival. Travellers to the site will be pleased to hear that the British weather should smile on them this year – with the skies above Amesbury said to be crystal clear come dawn. Access is free, as well it should be, and the event will surely again raise the question of whether English Heritage should tear down their controversial fence and open Stonehenge to all comers. Look out for King Arthur Pendragon, the outspoken druid leader – Somehow one doubts he'll be keeping a low profile this weekend…
Image by Cat Shatwell.