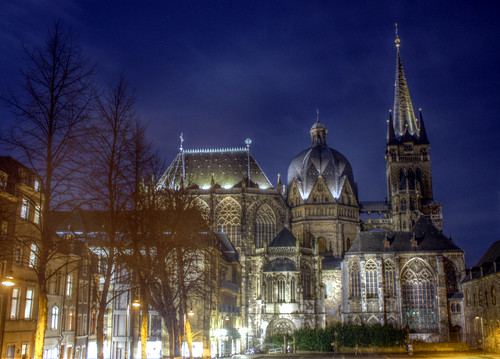 The grave of Charlemagne, the Frankish king whose empire comprised most of western Europe in the 8th and 9th centuries AD, may be lost forever according to archaeologists. Experts have finally dispelled the popular theory that Charlemagne was buried in the atrium of Aachen Cathedral, finding no evidence earlier than the 13th century.
Charlemagne, who was declared Emperor of the Romans by the Pope during his reign, is still thought to have been buried in the area. But with this setback experts are increasingly doubtful as to whether it will ever be discovered. Aachen archaeologist Andreas Schaub, who has worked on the cathedral project for the past three years, remains upbeat about finding the grave. "Since the 1980s, the theory persisted that the grave is in the atrium," he tells news24. "It is certain that Charlemagne was buried in Aachen, and certain that it was in the area of the church."
"It is certain that Charlemagne was buried in Aachen, and certain that it was in the area of the church."
Most Frankish kings were afforded lavish ceremonial burials. Yet Charlemagne's was rushed after his death in 814 due to poor weather and his having succumbed to pleurisy. The knowledge of its whereabouts was lost after Emperor Friedrich Barbarossa exhumed his bones 250 years later, placing them in the shrine of Aachen Cathedral.
Charlemagne's Carolingian Empire stretched through France, Germany, Italy, Austria and the Low Countries. Yet the man himself remains very much a mystery: his native tongue, siblings and and birthplace are still debated by historians. Charlemagne's religious, political and educational forms are legendary: even today the Charlemagne Award celebrates European co-operation, and the Economist magazine runs a European politics page in his name.
Visitors to Aachen Cathedral, a UNESCOWorld Heritage Site and the oldest cathedral in northern Europe, can also see Charlemagne's throne, and every seven years priests display the cathedral's religious artefacts, which include the cloak of St Mary and the cloth that held the head of John the Baptist. It's not the first time this year a German cathedral has made the headlines: January saw the Cathedral of Magdeburg confirmed as the burial place of Saxon Queen Edith of England.