London may be one of the world's greatest cities with a plethora of stunning heritage and monstrous museums, but no visit to England is complete without seeing some of the south of England's incredible green scenery. Beginning on the south-eastern top of Greater London and stretching all the way down to the English Channel, Kent is not only one of England's largest counties but one of its most beautiful. Luscious rolling hills and miles of green expanse give some parts of the area a Middle-Earthly look, and its villages and hamlets are among the nation's most picturesque. Kent is also notable for its strategic location, being the first port-of-call from mainland Europe. As such it has been the backdrop for some of England's most decisive events. The Roman invasion, Saxon conquests, 1066? All in Kent, and some of the area's amazing sights gush forth the frothing history of this hotbed of historic significance. Most of the monuments in this list are just a short train ride from the centre of London (usually via Charing Cross or London Bridge), so there's no excuse for missing any of these awesome spectacles if you're visiting London from foreign climes, or even if you're a Londoner yourself. There'll be more of these lists to come, covering the counties circumventing the city, but for now sit back and see if you agree with this top five Kentish ancient and prehistoric sites. If there's anything you disagree with feel free to rant and rave via the comments box.
5. Quex Museum (Powell Cotton Museum), Brichington
Located in Kent's north-eastern tip near Margate, Quex Museum and its lavish gardens and mansion leap out of their surroundings like a lion at a tiger's tea party. However the stunning Victorian manor is also home to an intriguing museum, which contains some of the best collections of weaponry and African ethnographic items in Britain. Dioramas of exotic animalia dominate much of the museum's floorspace, but there's also a hefty collection of archaeological artefacts from the local area, unearthed in the 20th century by founder Percy Powell-Cotton's daughter Antoinette. Objects excavated include Bronze Age, Roman, Saxon and Medieval antiquities, and there is even a small cache of Chinese porcelain. Not so much a hidden beauty, but a surprising one nonetheless.
4. Canterbury Roman Museum, Canterbury
The stunning city of Canterbury, home to the famous Anglican bishop, is worth a visit any time for its castle, cathedral, ramparts and no shortage of glorious British pubs. But the city was once an important Roman trading post called Durovernum Cantiacorum, a heritage proudly celebrated by the Canterbury Roman Museum. In its modest layout you'll find daily Roman scenes brought to life in dioramas and the reproduction of a market complete with shoe seller, fabric maker and fruit 'n' veg stall. Remains on display include houses and streets, as well as some fantastic mosaics, long since covered by millennia of waste and decay. A great addition to a visit to an already essential city.
3. Dover Museum, Dover
Dover, once name Dubris, was a pulsating hub of commerce and commotion on the frontiers of the Roman empire, and its rich history as a stepping stone to the European mainland is looked at in great detail at Dover's old museum. Its three floors include archaeological remnants of the area's prehistoric, Roman, Saxon and medieval history – and it is also home to the world's oldest seagoing boat, the Dover Bronze Age Boat, which got its own gallery in 1999. The Victorian-fronted building is a great example of the area's architecture alone, and this museum makes a fine addition to a city high on heritage.
2. The Medway Megaliths, Medway area
This group of six Neolithic chambered barrows and other megaliths is scattered across the area around the Medway river, and comprises the Culdrum Stones, Addington long barrow, Chestnuts long barrow, Kit's Coty House, the Countless Stones and the Coffin Stone. Addington and the Coffin Stone are in a somewhat sad state of disrepair, but the other four landmarks are fantastic sights, and can be covered as part of a fun day out in Kent's countryside. Kit's Coty in particular provides the viewer with some great photo opportunities, and a real insight into the people who must have used the river as their lifeline thousands of years ago. It's also important to push the stones as worthy visits, as Kent's Neolithic past is rarely documented nowadays, and these great monuments must be protected from vandalism and neglect, which is what caused much of their decay.in the past few centuries.
1. Richborough Roman Fort and Amphitheatre, Richborough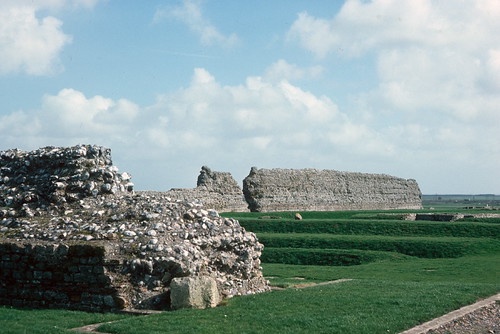 Could any landmark so sweetly sum up the beauty of Kent? Richborough, once known as Rutupiae, is widely agreed to have been the landing point for the Roman invasion of 43 AD, and its staggered ramparts and cross-shaped centre make for spectacular viewing. Sacked by Saxons, the fort and its town were important trading posts from Britannia to the rest of the empire, and its glory was edified with a triumphant arch, the foundations of which can still be seen today. It still has to be visited by boat across its lagoon, and the local surroundings make Richborough one of the county's best vistas, regardless of era.
So make sure you cement a Kentish trip with a visit to at least a couple of these fantastic sites. Also worth a special mention is Lullingstone's fantastic Roman villa, which is just one of a myriad great villas in Britain. Watch this space for more home counties guides, and escape to the countryside this summer!
Images by Matthew Reames and Duncan Campbell.