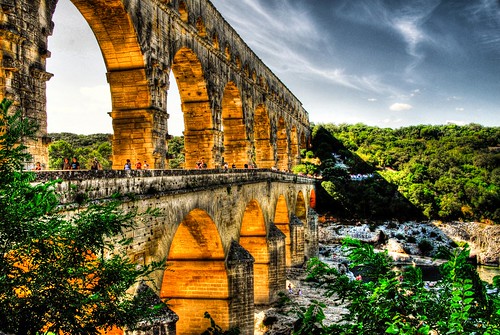 jojofotografia's capture of the Pont du Gard in the South of France boasts a great HDR shot full of vibrancy and colour, reflecting the beauty of this ancient Roman aqueduct. The strong lines of the structure against the natural features of the water and green banks represent a strong contrast, and the lighting shows the richness of the stone. High dynamic range (HDR) imaging shots are ideal for bringing the colour out in an image, and jojofotografia has really done a stunning job in this photograph.
The Pont du Gard was originally thought to have been built by Augustus's son-in-law, Marcus Vipsanius Agrippa in about 19BC, but recent excavations dispute this, dating it to the middle of the first century AD. The whole structure is built with precisely cut stones, eliminating the need for mortar and on completion allowed the transport of water across the Gardon river valley.
It's one of France's most visited tourism spots, and it's not surprising considering the immense beauty at this site. The crafting of the structure is nothing short of spectacular, and boasts the trademark Roman features implementing three levels, carrying a road on its first level and a water conduit at the top level.
There are many photographs taken of this beautiful landmark, but jojofotografia's shot is certainly eye catching for it's high level of detail and strong contrast between the colours, making this a fantastic photograph for depicting this beautiful location.