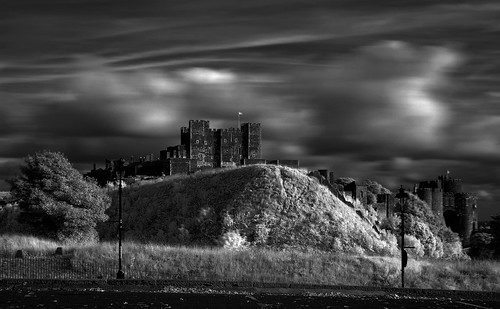 Black and White photography is an artform in itself – it's so much more than simply clicking the "greyscale" option in Photoshop. It's about adjusting the contrast, lighting and many other factors to achieve that perfect composition! Just ask Brian H who achieved a powerful and stunning effect in his photograph of Dover Castle.
The castle, which contains a Roman lighthouse (Pharos) within its grounds, is one of Britains most iconic defensive strongholds, and recently underwent a 2 million renovation of its Great Tower.
The photograph, although taken at some distance, brings the details of the stonework together with the tranquillity of the land growth and vegetation, and brings in the drama of the cloudy skies above. The blurry focus of the skies brings the attention towards the ground and allows your eyes to work up to the castle itself. All in all, this is a fantastic photograph, and a fine example of stunning black and white photography.
Read more about the renovation work at Dover Castle, and be sure to look through Brian H's photostream at Flickr!