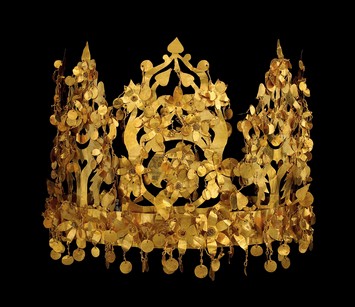 Its been nearly one month since Afghanistan: Hidden Treasures from the National Museum, Kabulwent on display in Ottawa, at the Canadian Museum of Civilization.
For that entire time there has been a strike on – with 400 workers manning picket lines. The strikers include educational staff and tour guides. The museum is a crown corporation – owned by the federal government.
People who want to see the exhibit have had to crossthe line to go and see it. There have been no talks since early October. Wages, job security and the contracting out of jobs have been themajor bones of contention.
As Im writing his now, there is news breaking that the union has agreed to arbitration as a way to resolve the strike. However the museum at this point is signalling in media interviews that they want a negotiated settlement and are prepared to meet Friday.This means that the strikecould drag on for a while yet.
There are severalquestions that need to be answered about this situation:
How many visitors have attended the exhibit despite the picket lines?
Does this, in any way, affect payment to the Afghanistan government for letting us show their artefacts?The country badly needs all the funds it can get to protect its cultural resources.
If this strike carries on will the museum keep the exhibit open? Especially ifthe attendance numbers are low?
How is the museum going to be able to ask, with any credibility, that it be allowed to host future international exhibits?
Why is it that, since the start of the Afghan exhibit, there have been no formal talks between themuseum andtheir employees?The Afghan people risked their lives for these treasures; couldn't we Canadians (and Canada is a relatively wealthy country) have at least talked?
Since Tuesday I have been attempting to reach museum vice-president Chantal Schryer to get an update on how this strike is affecting the Afghanistan exhibit. She is responding to all strike related media requests for the museum.She has not returned my phone calls, yet, but Ive been told that I might hear back tomorrow morning so stay tuned.