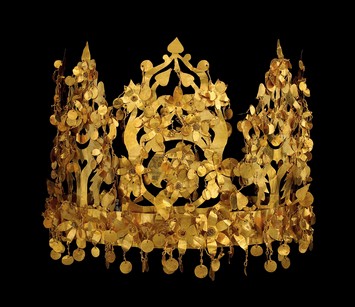 It looks as if picket lines will be up for awhile yet at the Ottawa showing of Afghanistan: Hidden Treasures from the National Museum, Kabul.
The blockbuster exhibition has been at the Canadian Museum of Civilization since October 23. There has been a strike on at the museum for that entire time. Nearly 400 workers, including educational staff and tour guides, have been manning picket lines.
News is just breaking that the latest attempt to reach a negotiated settlement has failed. The union now believes that a negotiated settlement is impossible.
PSAC advised the Minister of Labour after the vote that it believes that a negotiated settlement with the CCMC is impossible, and requested her direct intervention to resolve the dispute without further delay, said the union in a media release.
That direct intervention could take the form of arbitration, which the union has already voted to allow.
The release also says that a dispute over the contracting out of workers is the major roadblock dividing the two sides. Wages and protection for employees working on contract are two other major issues.
This breakdown of talks comes a week after both sides told Heritage Key, in separate interviews, that they are optimistic of reaching a negotiated settlement.
The strike appears to have hurt attendance at the exhibit.
As of November 15 only 7,711 people have crossed picket lines to see the exhibit. To put that number in perspective the Dead Sea Scrolls exhibit, at the Royal Ontario Museum, attracted more than 18,000 visitors in its first nine days alone.
"It is important to note that November is a slower month in terms of visitors ship. It is like that every year. Regardless of that fact, as I told you yesterday, the exhibition is very popular and so far, thousands of people have come to see it and we expect many more. It is in fact the most popular exhibition right now," said museum vice-president Chantal Schryer in an email sent a week ago.
As Heritage Keys Helen Atkinson writes the Afghanistan people risked life and limb to protect these treasures. She also has an interview with exhibit curator Dr. Fredrik Hiebert.