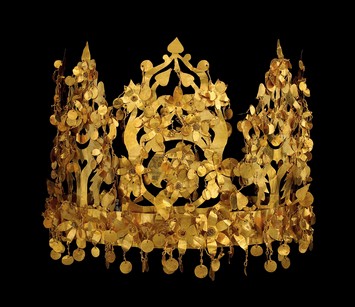 Theyve faced bombs, the Taliban and civil war, and now Afghanistans ancient treasures have a new challenge a Canadian museum strike.
This Friday, the exhibit, Afghanistan: Hidden Treasures from the National Museum, will be making its next stop in Ottawa Canada.
As Heritage Keys Helen Atkinson writes, it features treasures from Afghanistans history that have survived the turmoil the country has faced for the past three decades.
In Ottawa the Canadian Museum of Civilization, where it will be displayed, has been experiencing a strike by more than 400 of its workers, including guides and educational staff. They walked off the job September 21. The curators of the museum are part of a different bargaining unit and are not on strike.
Wages and the contracting out of jobs have been the two key issues. There was an attempt to re-start negotiationstwo weeks ago, but talks fell apart within a day.
So what does this mean for those hoping to visit the Afghanistan exhibit when it opens?
In short picket lines. Picketers have been delaying entrance into the museum, so expect to spend a bit of time waiting in the chilly Ottawa weather.
I talked to Chantal Schryer, the museums Vice-President for Public Affairs. She says visitors can expect short delays while they wait to cross the lines. A union official speaking on background confirmed that picketers have been delaying entrance to the museum.
Schryer emphasized that the exhibit is opening as planned. Most of the installation work was done before the strike began. Also, the people doing much of the work are a group of Afghanistan curators from the museum in Kabul. Theyve been following the exhibit, setting it up where it goes.
Visitors will also experience other shortcomings obviously tours of the museum will be affected and lines may be longer for ticket sales.
But the biggest consideration will be deciding whether to cross a picket line to go and see it.