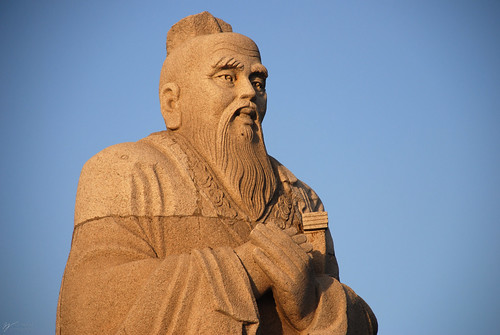 This week China celebrated the 2,560 birthday of Confucius. And soon, the famous philosopher will also have his own film.
Titled Confucius, the movie will star Chow Yun-Fat as the famed Chinese thinker. Last month, a trailer for the film was released, with the movie set to premiere early next year.
Living from 551 to 479 BC, Confucius is renowned for his philosophies on morality and values. These ideas have shaped Chinese society and governance through the millennia, while also influencing other countries across Asia.
News articles, however, have noted a recent resurgence of the scholar in China, after his philosophies became unpopular in the country. During the 20th century, Confucianism was often denounced in China as backward and feudal.
But in recent years, his ideas have once again resurfaced in the countrys mainstream. New books, government sponsored events, and even a cartoon show are popularizing his teachings.
With Confucianism back in style, the new film comes at an appropriate time. But the movie hasnt been without controversy, with worries expressed over the casting of Chow Yun-Fat in the role of Confucius.
Chow has gained famed in Asia mainly for his Hong Kong action films, with a few of his most acclaimed roles playing gun-toting criminals. This is contrary to the scholarly-like image Confucius often exudes. Some also fear that Chows Mandarin language skills arent good enough for role, and that the film will feature too much action.
But according to the Chinese press, descendents of Confucius said they approved of Chow being cast in the movie after viewing the trailer for the film. Sage-like said one article describing how the descendents viewed Chow Yun-Fats portrayal of their ancient ancestor.
Readers can judge for themselves by checking out trailer here or here.