I am planning a week-long trip to Istanbul with my husband and two young boys for Christmas holidays and the New Year. The main focus of the holiday will be visiting my family who live in Istanbul and catching up with friends. Each time we are back home my French husband gets restless in a family environment with too much Turkish language around him that he understands very little of, and wants to be the sightseeing tourist wondering the streets.
He would rather be watching a belly dancing show in Galata Tower or relaxing in a TurkishBath – typical tourist things to do. Good thing that Istanbul is such a vibrant city full of cultural and historical things to do so we are not stuck for ideas. Every time I feel like a tour guide who needs to have plans for the next daily tour – and each time I have to come up with better and more creative plans. If I take them to the same place more then once it's a major mistake!
Does it happen to you too: you live in a city, so never treat it like a tourist and fall into the trap of just doing your day-to-day things? I don't live in Istanbul now but did so for 19-20 years and when I go back I never view it in the same way as other city break destinations.
For the past couple of years, having the responsibility of showing my sons my Turkish heritage, I feel more concerned about what they learn and see. I also make sure they feel proud of their fifty percent Turkish blood. So having seen many historical sights so far and visited endless museums and mosques I decided to show them the Jewish Heritage in Istanbul.
The History of Jewish Heritage in Turkey
Over 500 years later the act is still a model of tolerance
Jewish settlements in Turkey go back to the Roman era in the Manisa area with the heavily-destroyed synogogue Sardis. During the Ottaman Empire in 1492 the Jews were expelled from Spain by the Catholic King Ferdinand, and came to Turkey thanks to Sultan Bayezit II, who gave them refuge in the country.
Over 500 years later the act is still a model of tolerance, and one that has led to a vibrant multi-faith community. Modern Turkey is now home to approximately 25,000 jews.
Your Jewish Heritage in Istanbul Tour Starts Now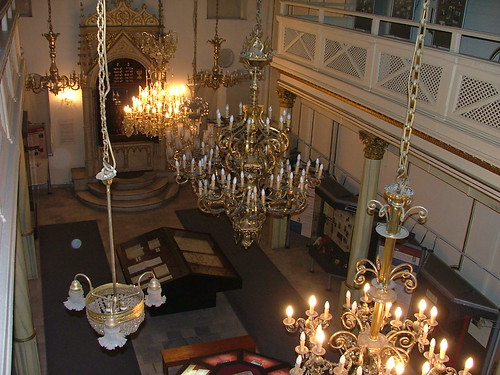 I will start the tour from Galata Tower which is a Geneoese landmark that can not be missed as it is visible from many parts of Istanbul. It's a great vantage point for breathtaking panoramic views of the Bosphorus and Istanbul, including the Golden Horn and Galata Bridge.
I think every kid would find it fascinating to hear the stories of Hazerfan Ahmet Celebi, who made wings and flew from the Galata tower over to the Bosphorus. The area around Galata used to be a thriving Jewish community around 1500.
Next stop is Neve Shalom Synagoge. Neve Shalom is the largest and most beautiful Sephardic synagogue in the Galata area. You need to make an appointment for a visit by calling them beforehand. Zulfaris Synagogue which is now The Jewish Museum of Turkey is in the area too, and open every day but Saturday from 10am till 4pm. It has impressive decoration inside with great collections of Jewish heritage. As we leave the Galata region do not forget to take a look at Kamondos Staircase, named after a wealthy Jewish family.
Now we head towards Balat which is in the Fatih area, on the western side of the Halic (Golden Horn). This area used to be an important part of the Jewish community, with many synagogues, schools and a hospital. Nowadays only two synagogues remain, as well as Or Ahayim Hospital. Ahrida amd Yanbol synagogues are the remaining sites and both of them need to be contacted before making a visit. Ahrida is one of the oldest synagogues in Istanbul, and built in the Ottaman Baroque style. Watch out for Star of David symbols around the area as you walk through the streets of Fatih: some can still be spotted on the facades of the buildings.
As you wander round the narrow streets of Balat, take time to imagine the centuries of different cultures, religions and people who lived there together as neighbours and friends. Not only Jews but Armenians and Greeks lived in these colourful wooden houses, and walked on these cobblestone pavements. There are still some grocery stores and small businesses owned by Jews and Greeks. Talk to an older person on the street – I am sure they would be more then happy to share their stories with you.
After Fatih, we would like to reach to Ortakoy. The traffic can be awful in this area, so try to get there around 4pm, before the rush hour starts. This is where you can see the rebuilt Etz Ahayim Synagogue which was burnt in 1941.
There is nothing better than the shores of Ortakoy at sunset with a cup of warm tea, in the cold days of December. Looking out over the waves of the Bosphorus, under the lights of Bosphorus Bridge and the Ortakoy mosque, the view is stunning. I am sure after all this walking you would appreaciate the view and some warm tea.
I guess in one day, one can not cover all Jewish Heritage in Istanbul. At the end of my little tour there are still more synagogues left to see, and also the cemeteries at Sisli, Kuzguncuk, Princess Islands, Haydarpasa and Haskoy. But what a great way of seeing different regions of Istanbul from a different view. If you have done this tour and would like to recommend any places please drop me a note: after all I am not a tour guide or a tourist in my own country. I'd love to hear about your travels to Istanbul!
Next: Find out about the Jewish heritage of Egypt, in a unique Heritage Key video.