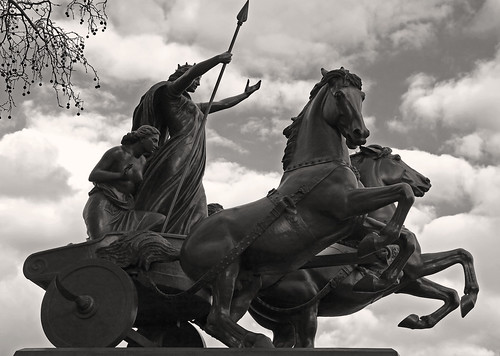 London is home to a massive bronze statue of the legendary Queen Boudicca in her chariot, which was proudly erected in the Victorian era. Leading her chariot into battle, Boudicca or Boudica, or Boadicea, as shes sometimes known looks capable of grabbing any victory for the city.
But rather than London's fierce defender, Boudicca was actually its enemy. This competition invites you to discover this controversial statue in London, and win points and prizes for sending us your photographs of the warrior queen.
The statue was made by the English artist Thomas Thornycroft from 1856 until 1885, and wasnt erected in its current position until 1902. But where is it?
How to Play
Spot the glorious statue of Boudicca in London
Take a photo of it
Upload your photo to our Ancient World In London Flickr Group, and tag it with 'Boudicca'
Or simply take a photo of it with your camera and tweet it to @Heritagekey with #boudicca
Date and Time:March 9, 2010 till March 29, 2010, midnight
Points to be earned: 10 points per photo
Prize: An Ancient History Book of your choice from Thames & Hudson (here are some of our favourites)
Rules: We assume that you've read and agreed to our competition rules
More Things to Do and View
Our video crew will be filming the modern Boudicca in London! Keep an eye on Ancient World in London what are we preparing for you next in our Ancient World In London Video Series.
Also the Ancient World in London Spotted Photo Contest winner has now been announced – you can read more about the winner and the photo here.
The deadline is approaching for the Bloggers Challenge too. Tell us your favourite London artefact and win monster points and prizes.
Remember, you need 1066 points to be in with a chance of winning the grand prize – an amazing holiday for two near the ancient rock tombs of Dalyan in Turkey, courtesy of our Sponsor Holiday Mate.