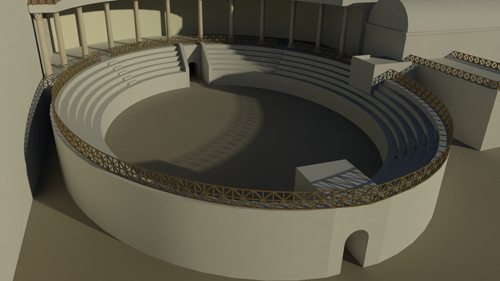 I blogged earlier about the discovery of major Roman structures at Rome's principal maritime port from the middle of the first century onwards. As part of the Portus Project, a team of archaeologal experts worked together with the Archaeological Computing Research Group at Southampton University to create digital images to aid excavators at the site. These two images show what the amphitheatre and the entrance to the port would have looked like 1,800 years ago.
The Amphitheatre
The amphitheatre has emerged at a location that excavators say is inside an 'imperial' palace complex – whose main function was port-related administration.
Portus Project director and leading expert in Roman archaeology at the University of Southampton and the British School at Rome, Professor Simon Keay, says that this amphitheatre covered an area similar to that of the Pantheon in Rome.However, its use remains unclear at the moment: Gladiatorial combat may have taken place there wild beast baiting, the staging of mock sea battles, or it may have been a form of Roman folly, shaped like an amphitheatre, but used as a monumental garden. It is unusual to find this type of building so close to a harbour. Read my interview with Simon Keay here.
The Entrance to Portus's Harbour
The building of the maritime harbour at Portus began in 42 AD under the emperor Claudius. The harbour about two kilometres north of Ostia had to be artificially dug out (a huge enterprise, even with large amounts of slave power).
The purpose of this colossal construction project was to provide a deep-sea harbour for big ships to dock and unload safely. While Ostia had already been long-established in 42 AD as Rome's main harbour, the shallow shoreline meant that very big ships still had to anchor and unload out at sea a dangerous and risky business for them.
The man-made harbour solved this problem and was protected by two curved sea walls (like arms) and a lighthouse, or 'lanterna' the entrance is shown in this computer-generated image. This artificial harbour was connected to the Tiber by canals and became the main point of import for goods from the western Mediterranean. A hexagonal harbour behind Claudius's harbour was subsequently built by Trajan between 106-113 AD (this can still be seen on maps today right next to the motorway to Fiumicino airport).
Gladiatorial combat may have taken place there wild beast baiting, the staging of mock sea battles, or it may have been a form of Roman folly
Work at the archaeological site next to Fiumicino airport has been going on for three years and the team of archaeological experts from Southampton and Cambridge Universities, as well as the British School at Rome and the Soprintendenza per i Beni Archeologici di Ostia (the state heritage body for Ostia Antica), have been working alongside the University of Southamptons archaeological computing research group.
As in all disciplines, computers are an increasingly important tool in the field of archaeology (many archaeological news stories now involve computer-generated images, laser or MRI scans, or other uses of cutting-edge technology). The team of computer researchers from Southampton University created these two images as an aid to archaeologists excavating the site. The University of Southampton and the British School at Rome are also using radar and other techniques to locate and map buildings and structures underground.
The Portus Project has also made a geophysical survey of the Isola Sacra (actually a pretty busy traffic island today) traces of Rome's marble yards were found there, as well as evidence of a major Roman canal.
Photos by Southampton University Archaeological Computing Research Group.