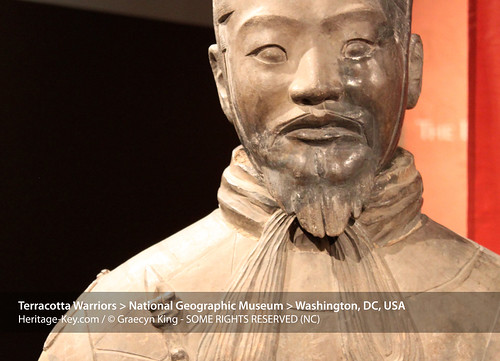 Only weeks after a devision of Terracotta Warriors went on show National Geographic Museum in Washington DC– check out Graecyn's splendid photographs here – another unit of the First Emperor's Army "marched thousands of kilometers to Chile". Last Friday Chile's President Michelle Bachelet inaugurated the exhibition 'The Ancient China and the Terracotta Army' in the central hall of the Cultural Center La Moneda Palace in Chile's capital Santiago. The exhibition, which will run for the next five months, includes 123 terracotta soldiers and horses.
"This is one part of the globalization we need to boost. It means dialogue of cultures, deep connection among the people and communication of dreams," President Bachelet said during the inauguration ceremony. "We use the verb 'to orient' in Spanish, which refers to the quest for the good path," she explained. "Our people need to learn about oriental history and culture, mainly that of China."
Xinhua – the official press agency of the Chinese governement – reports that Bachelet stressed that the exhibition furnishes proof of Chinese civilization's development by displaying history from the unification of the empire to the consolidation of the Han dynasty. She added that the Terracotta Warriors display will enable children in Chile to broaden their horizons, eliciting both their amazement and admiration.
'La Antigua China y el Ejrcito de Terracota' (Ancient China and the Terracotta Army') is on show at the Centro Cultural Palacio de La Moneda, Santiago until the 30th of April 2010. If Washington DCis just that tiny bit closer, you can catch 'The Terra Cotta Warriors: Guardians of China's First Emperor' at the National Geographic Museum until March 31th 2010.