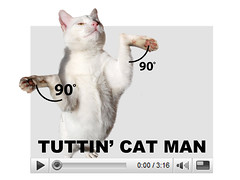 Get up from your chair, take a step back and watch this video by the AGO attentively, as you're going to learn how to 'tut'. Inspired by ancient Egyptian art work 'tutting' isn't that far off from walking like an Egyptian, but on a different tune.
In a video posted to their website to promote the 'King Tut:The Golden King and the Great Pharaohs' exhibition, the the Art Gallery of Ontario is teaching the internet crowd how to dance like an Egyptian. The instructional clip features Mark Cabuena demonstrating a basic 'tutting' routine that is easy – yeah, right – and fun – to watch others try – to learn.
The 'tutting' moves are based on a 1980s – Tutankhamen frenzy inspired – 'King Tut' comedy dance routine performed by Steve Martin and the The Toot Uncommons (back then quite a big hit). Now Cabuena has choreographed a special 'tutting' routine for you to learn which you can demonstrate at the local Christmas Fair after a moderate consumption of Gluhwein – really, 'mulled wine'?!
The Art Gallery of Ontario's 'How to Tut' Tutorial
If you after those – probably not that successful – first attempts at tutting you just can't get enough – and keep getting better – consider joining the Art Gallery of Ontario on Sunday the 28th of February 2010, when they are hosting their 'Tutting Day' and go setting a world record in the category 'Tut and 90 degree angles'.
I'd say "Kids and Egyptomaniacs, do try this at home, but remember:not all joints are made for a 90 degrees movements and isolating your arms from the rest of your body does _not_ mean dismemberment." I am definitely looking forward to children and adults alike putting their tutting 'home movies' on YouTube and even better… imagine tuttin' lolcats!
For more information on the Tutting Day and world record event, keep an eye on www.ago.net/tutting and Heritage Key. And of course, feel free to share your own tutting-practise videos with us!