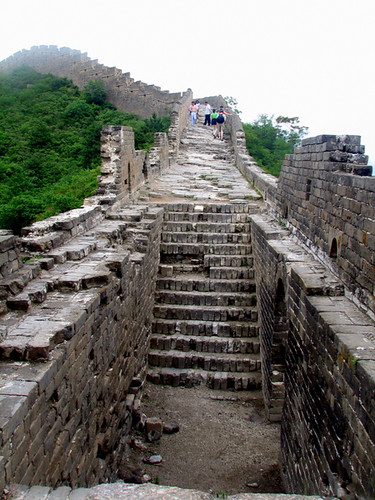 Ruinsfrom a Han Dynasty (206 BC to 220 AD) cityhave been discovered in Wuyuan County, Hetao Plain, Chinas Inner Mongolia. Its said that the scale of the city ruins is rarely seen in Hetao Plain. In a mean while, the gold mining company is been investigated over irreparable damage done to 100 metersof theGreat Wall in their quest for the precious metal.
A new Han City discovered in Wuyuan County
Thenewly discovered city ruins are located in Taal Town of Wuyuan County, Bayannaoer City in Chinas Inner Mongolia and were once covered with grassland.
The city wall was about 2 km long and 1 km wide and is made up of compressed earth. The east wall is 2 meters high and remarkably preserved, while, the south wall has already collapsed and is now a road base 80 centimetres high above ground level. Pottery shards with exquisite patterns are scattered nearby.
People.com.cn also reports an archaeologist saying a large number of tombs including more than 300 graves were previously found 2 kilometres away from the newly-found city ruins.This may implythat there was a whole city here during theHan Dynasty, with the living area in the southern part and burial grounds in the northern part.
Mining Company digs for gold under Great Wall
The Police of Hohhot City – Inner Mongolia's capital – and China's State Administration of Cultural Heritage are jointly investigating allegations that the Hohhot Kekao gold mining firmwhilst prospecting in Inner Mongoliaseverely damaged 100 meters of what is probably China's most famous ancient monument.
The constructionon theGreat Wall of China started in the 5th century BC by Emperor Qin Shi Huang– better kown as the First Emperor -tostop invading northern tribes.The exact length of the part build in the Ming Dynasty8,851.8 km was announced in 2008. The Great Wall was built in different historic periods and probably the total lenght wasabout 50,000 kilometres. After research to measure the length of the Great Wall of the Qin and Han dynasties, this year another 11 kilometres was added to the ancient monument's length when Qin and Han period ruins ofthe wall and a fort were found in Tonghua County, shifting 'the end of the wall' away from Xinbin. About 15,000 kilometres of the wall finds itself in Inner Mongolia.
The mining firm under investigation ignored five orders to stop operations and continued to dig the two holes in the wall, forcing the cultural relics office to take action. The holes, covering a total area of 300 square meters and five meters deep, were dug through the a Qin Dynasty part of theGreat Wall on a mountain in the city's Pogendi Village. Wang Dafang, director of the region's cultural relics department, told Xinhua that"The damage is irreparable."
One-third of the Great Wall has over time been destroyed by erosion as well as 'vandalism'; miners, road construction workers and villagers collecting building materials. Damaging the state key cultural relic site is punishable by a fine of up to 500,000 yuan or a jail term of up to 10 years, but only 5 miners have been punished up to date.