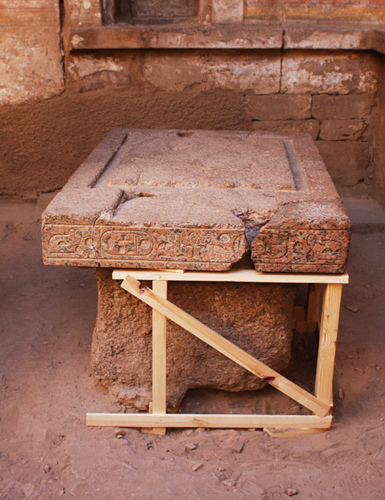 Egypt's Minister of Culture Farouk Hosni and Dr. Zahi Hawass returned a piece of red granite belonging to an ancient Egyptian temple to its rightful place – the base of Amenemhat I's naos. Both officials are on an inspection tour along the Avenue of Sphinxes that connects the Temple of Luxor with that of Karnak, home to the Ptah temple where the naos is to be found.
The naos pieace was returned to Egypt last October by the Metropolitan Museum of Art in New York, after it was purchased by the Museum from an antiquities collector in New York in order to return it to Egypt.
Dr. Hawass described the Metropolitan Museum's action as "a great deed," as it is the first time a museum has bought an object for the purpose of returning it to its country of origin.
This action, asserted Hawass, highlights the deep cultural cooperation between the SCA and the Metropolitan Museum, as well as the Mets devotion to return illegal antiquities to their homelands.
"It is also a kind gesture from the newly appointed Metropolitan director Thomas Campbell," said Hawass.
Hawass relates the story of this object, which started last October when Dr. Dorthea Arnold, the curator of the Egyptian section at the Metropolitan Museum, wrote an official letter to Dr. Hawass stating the Mets desire to offer Egypt the piece; a part of the base of Amenemhat I's naos (1991-1962 BC). The rest of the naos is now in the Ptah Temple of Karnak in Luxor.
The naos fragment was presented to the Metropolitan Museum by a collector in New York, who claimed he bought it in the 1970s. Dr. Arnold discovered the granite fragment must join with the naos in Karnak, which scholars believe was moved there during the New Kingdom. The piece was subsequently returned to Egypt, and will now be returned to its rightful place.
Hopefully, the 'Return of the Naos' will serve as an example for future repatriation of artefacts, rather than another recent story in which Egypt threatened to suspend the Louvre's Saqqara excavations until the French museum promised to return two fragments stolen from a noble's tomb it had acquired.
And who knows, maybe – after it is attested that the Egyptians are not pirates – the Rosetta Stone might even travel to Egypt in time to star at the opening of the Grand Egyptian Museum? Iwonder if the English bookies have any odds for that.